Blues/Roots/International Search
5 total results
Sat., Sept. 24, 7-11 p.m.

704-358-9200
Blues/Roots/International, Hip-Hop/Soul/R&B, General
Groove 8 began in Charlotte NC in 2005 with a collection of the city's best independent jazz musicians collaborating to form the project. the band began performing locally and expanded regionally. Their music is a great blend of soul and funk that will have you dancing all night. Ransom Pier is a roots rock quintet from Queens, NY whose bassist is a Charlotte native. Their music has been compared to an edgier Lake Street Dive. $10 advance, $12 day of show
https://www.facebook.com/events/269956386714353/

Visulite Theatre
(
map
)
1615 Elizabeth Ave.
Elizabeth

704-358-9200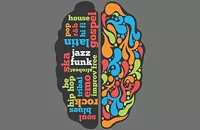 Sun., Sept. 25, 7-9:30 p.m.

704-663-5659
info@welcomestpat.org
General, Blues/Roots/International, Classical/Jazz/Smooth
In 1995 after years in various ensembles and a successful stint as a Nashville songwriter, Mike packed up his guitars and his fishing gear and moved from Nashville, Tennessee to a little mountain town in northwest Wyoming. From bottleneck blues to vintage jazz, Mike draws inspiration from deep in the musical bag of American roots guitar. His understated mastery of all things six-stringed, coupled with an engaging voice, a self-deprecating wit and an arsenal of elegant guitar interpretations has firmly secured his place among the musical masters of his generation. At the door: $15 adults, $10 students and seniors (cash or personal check only). Event includes wine & cheese reception.
http://www.welcomestpat.org/solas-leighis-concerts/
Saint Patrick's Episcopal Church
(
map
)
201 Fairview Road
Mooresville

704-663-5659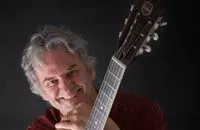 Sat., Oct. 15, 4-9 p.m.

803-802-1678
fhartiii@comporium.net
Festivals/Events, Family, Blues/Roots/International
Oktoberfest In Old Town Rock Hill is an annual Bavarian style street festival that highlights the German culture. There is no admission fee, so come join us for a great party! German Food, Pastries & Beer Garden with Alemannia Society, a German cultural organization. Wiener Dog Race preregister at Humane Society of York County; races will start at 6:00pm; Children's Area Inflatables (admission fee required) and Face Painting available for the kids! For you beer drinkers, there will be plenty of genuine German styles to choose from, so come thirsty! FREE
http://onlyinoldtown.com/do/featured/33/view/overview/
E. Main Street - Old Town, Rock Hill
(
map
)
116 E. Main St, Rock Hill, S.C. 29731
Rock Hill

803-802-1678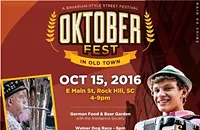 Fri., March 31, 8 p.m.

704-233-8300
l.kratt@wingate.edu
General, Blues/Roots/International
One of the tightest cross-cultural collaborations in history, the Nile Project concert brings together musicians from the 11 Nile basin countries, representing over 400 million people, to make music that combines the rich diversity of its ancient cultures and peoples. Using music to spark cultural curiosity, the Nile Project engages musicians and audiences, challenging them to connect to the world's longest river and explore new approaches to its social, cultural, and environmental problems. $25 Adult, $15 Student
http://battecenter.org/event-details/?_eid=100

George A. Batte, Jr. Fine Arts Center at Wingate University
(
map
)
403 N. Camden Road
Matthews

704-233-8300
Showing 1-5 of 5 total results in this search.