DJ/Electronic Search – User Submitted
4 total results
Last Thursday of every month, 9 p.m.-2 a.m.

704-332-6608
petrasbooking@gmail.com
DJ/Electronic
Thursday, February 25th NO COVER $4 Craft Cans, Bottles, & Draft A new monthly oasis. Not like that time you had a talk with your drunk uncle. A safe place for music addicts. Choice tunes, expertly mixed. No Gimmicks. No Cover. You don't have to listen alone. Resident therapists: DJ Tober DJ Oliver DJ Donald We'll be showing good Independent movies on the screen as well!!! FREE
Petra's
(
map
)
1919 Commonwealth Ave.
Plaza Midwood

704-332-6608
Fri., Jan. 27, 9 p.m.-2 a.m.

704-526-0848
DJ/Electronic, Festivals/Events, Nightlife
Rooftop 210 is bringing back one of the hottest trends across the nation, Silent Disco! At Silent disco, YOU get to choose which DJ's music you like best! Rather than using a traditional speaker system, live music is broadcast and picked up by specially designed wireless headphones worn by the audience. Those without headphones hear no music, giving the effect of a room full of people dancing to silence. People watching is half the fun! DJ LINE UP: DJ COMPLETE, EDWARD SHOUSE, DJ SODEN Free
https://rtsilentdisco.eventbrite.com/?aff=FL
Rooftop 210
(
map
)
210 E. Trade Suite (B-320)
Uptown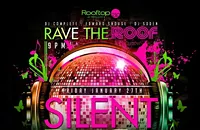 Fridays, Saturdays, 11 p.m.-2 a.m.

704-333-9197
shannon@thepeculiarrabbit.com
DJ/Electronic, Wine/Cocktails
Join us at The Peculiar Rabbit every Friday and Saturday night from 11pm until 2am for Plaza Midwood's hottest music mix spun by DJ Chris and his crew! No cover, great drink specials, and the best rooftop view in Charlotte! FREE
http://www.thepeculiarrabbit.com

The Peculiar Rabbit
(
map
)
1212 Pecan Ave.
Plaza Midwood
Sat., Feb. 25, 9:30 p.m.-2 a.m.

910.257.5000
Squarepegsnc@gmail.com
DJ/Electronic
Feb 25th .. Square Pegs presents DEEKLINE w/ PhatRabbit, Datboy Fletch, Skinner and more. 10.00 Entry
https://www.facebook.com/events/132842160553872
Showing 1-4 of 4 total results in this search.