Readings & Signings Search
2 total results
Fri., April 28, 7-9 p.m.

704-372-7665
info@beyogaclt.com
Readings & Signings, Health & Fitness
In this workshop Brianna will interweave several healing arts together, crafting a multisensory experience with the intent of helping you to: slow down, breathe deep, engage in the present moment and foster your connection to Self. By strengthening this sacred bond you will impact how you show up in the world and how you choose to live your life. Please join Brianna for this ninety-minute healing ritual and step forward on your personal path to wellness. Please join Brianna after her workshop for refreshments – where she can sign your book. $35 in advance $40 at the door
http://beyogaandwellness.com/events-2-be-yoga-charlotte/

Fri., May 26, 6-8 p.m.

240-818-5993
marnimanningart@gmail.com
Visual Arts, Readings & Signings
Folk illustrator Marni Manning has a lot to say about what it means to be a woman these days. Her solo exhibit 'Woman, These Are Yours' will go live at Free Range Brewing on May 26th, 2017, supplemented with poetry selections from writer A.C. O'Dell. Both women are Charlotte natives and are pleased to visit their hometown once more. N/A
http://marnimanning.com
Free Range Brewing Company
(map)
2320 N. Davidson St.
NoDa

704-898-4247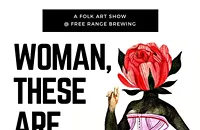 Showing 1-2 of 2 total results in this search.