Sex & Love Search – User Submitted
1 total results
Tue., Nov. 8, 6:30-8:30 p.m.

704-301-9047
info@sipandskill.com
Sex & Love, Lectures, Classes & Seminars, Health & Fitness
The Ultimate Date Night! A professional massage therapist will teach you and a spouse/partner/friend compressions and techniques to master the art of massage! You will then have the opportunity to practice using the different methods you've learned & see the different types of lotion or oils preferable to use for massage. We will take turns so each person learns how to give ( and receive ) excellent massages! Definitely a skill you'll be glad you learned & can use over & over! THE 411: Bring a blanket/ yoga mat/ towel & A PILLOW for comfort & a bottle of wine! 30
http://www.SipandSkill.com

Industry Charlotte
(
map
)
1000 North Carolina Music Factory Blvd
Uptown

(980) 229-4549
info@industrycharlotte.com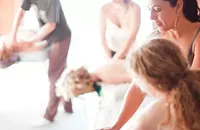 Showing 1-1 of 1 total results in this search.