Benefits & Fundraisers Search – User Submitted
2 total results
Sat., Oct. 1, 4 p.m.-12 a.m.
cglenn704@gmail.com
Benefits & Fundraisers, Pop/Rock
A night of punk rock for a cause! We are here to let our friends and neighbors struggling with addiction know we are there for them. There will be information on addiction and local treatment available to help anyone in need or for someone who may know someone using. All proceeds will go to the scholarship fund of a local holistic treatment center and the NC Harm Reduction Coalition. Naloxone will be available at no cost. Raffle supported by local businesses Let's take a stand against the poison while keeping in mind the struggles it causes. $3
https://www.facebook.com/events/505823729623424/
The Station
(
map
)
2131 Central Ave
Plaza Midwood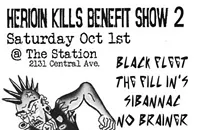 Sat., Oct. 22, 7-10 a.m.

704-416-0803
foundation@cmlibrary.org
Benefits & Fundraisers, Family, Sports & Recreation
Run - or walk - to support Charlotte Mecklenburg Library! This Library Foundation Friends Council event is fun for the whole family. Enjoy local beer, mimosas, music and more. The race begins and ends at the Plaza Midwood library. Lace up your running shoes, we'll see you there! $5 - $35
http://www.rockandread5k.com/

Charlotte Mecklenburg Public Library Plaza Midwood Branch
(
map
)
1623 Central Ave
Plaza Midwood

704-336-2982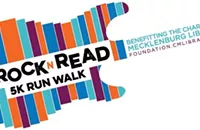 Showing 1-2 of 2 total results in this search.