Arts Agenda Search – User Submitted
1 total results
Fri., Oct. 28, 7:30-9 p.m., Sat., Oct. 29, 7:30-9 p.m. and Sun., Oct. 30, 2:30-4 p.m.

704-996-7724
Robert@warehousepac.com
Film
With her own wedding just around the corner, filmmaker Sharon Shattuck returns home to examine the mystery at the heart of her upbringing: How her transgender father Trisha and her straight-identified mother Marcia stayed together against all odds. FROM THIS DAY FORWARD is a moving portrayal of an American family coping with the most intimate of transformations. $9.25 General Admission
http://www.warehousepac.com

Warehouse Performing Arts Center
(
map
)
9216 Westmoreland Road, Suite A
Cornelius

704-859-5930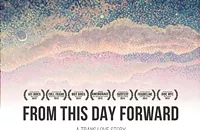 Showing 1-1 of 1 total results in this search.