Music Events Search – CL Recommends
1 total results
Tue., Feb. 28, 9 p.m.
Pop/Rock
The members of female-fronted punk quartet Take the Fall sound like they've been wired to an early-2000s radio permanently tuned to Blink 82 and Taking Back Sunday. That's not necessarily a bad thing, as long as the band's got songs. Luckily, Take the Fall's tunes are ace — the perfect mix of heart-on-sleeve vulnerability and crunchy kiddie-punk confection. Recent tunes such as snotty kiss-off "Calm Before My Storm" show the band pushing past its emo roots. $5-7
Milestone
(
map
)
3400 Tuckaseegee Road
FreeMore West

704-398-4072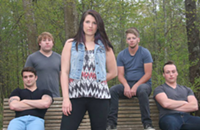 Showing 1-1 of 1 total results in this search.