Music Events Today – CL Recommends
1 total results
Sun., Feb. 26, 8 p.m.
Pop/Rock
Thanks to boundary-stretching veterans like Joe Bonamassa, blues-based guitar rock is having something of a resurgence. It's been 17 years since his solo debut, but Bonamassa still has the fire and fluidity of a young gun, and he tempers his chops with a willingness to step away from the cliché with chords not usually heard in the blues. For his latest album, Blues of Desperation, he teams with crack Nashville songwriters, making the tunes as important as guitar pyrotechnics. $69
Belk Theater
(
map
)
130 N. Tryon St.
Uptown

704-372-1000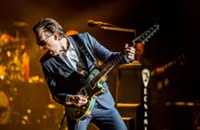 Showing 1-1 of 1 total results in this search.