Music Events Search – CL Recommends
3 total results
Sat., April 29, 7 p.m.
Pop/Rock
"He inspired me to be constantly creative." That's violinist Kishi Bashi talking about Kevin Barnes, the mad musical genius known as Of Montreal. That's all the space we can devote to Barnes in this blurb, because he's just one of the many acts playing throughout town on Saturday during this year's Reverb Fest 5. Of Montreal headlines at the Neighborhood, along with JMSN, Christina Schneiders, Jepeto Solutions, Sarah Shook and the Disarmers; Hectoring performs at Snug, LeAnna Eden plays Lunchbox Records, and MyBrother MySister will be at The Station. And those are just the tip of the Reverb iceberg.
How about a little taste of Of Montreal...
$20 - $25
Neighborhood Theatre
(map)
511 E. 36th St.
NoDa

704-942-7997
Sat., April 29, 10 p.m.
Hip-Hop/Soul/R&B
Smack dab in the middle of the arts explosion that is the BOOM festival, AfroPop! And Urban Züe collaborate on the BAM Session, a fusion of fashion, art, culture, live performance and whole lot of dancing. Petra's will be transformed into an eclectic creative space where live drumming, audio-visual displays and African diaspora music thrive. Organizer Eric B. Ndelo's stated goal is to party with the purpose of empowering the community. $10
Petra's
(map)
1919 Commonwealth Ave.
Plaza Midwood

704-332-6608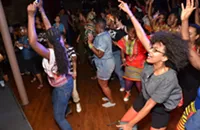 Mon., May 1, 8 p.m.
Pop/Rock
One of music's more eclectic players, Shaun Martin has tickled the keyboards for acts ranging from gospel great Kirk Franklin to the jam-jazz-fusion band Snarky Puppy. And now he's out with a five-piece combo supporting his effervescent 2015 solo album, Seven Summers. Expect a diverse crowd of gospel fans, jam-band aficionados, jazz heads and more when the seven-time Grammy winner hits the stage at the Evening Muse for an intimate evening of great-sounding music. Can we get a hallelujah? $10-15
The Evening Muse
(map)
3227 N Davidson St.
General Charlotte Area

704-376-3737
Showing 1-3 of 3 total results in this search.