Music Events Search – CL Recommends
7 total results
Thu., March 30, 7:30 p.m., Fri., March 31, 8 p.m. and Sat., April 1, 2 & 8 p.m.
Classical/Jazz/Smooth
$28-40
Duke Energy Theater
(map)
345 N. College St.
Uptown

704-372-1000
Wed., April 5, 8 p.m.
Pop/Rock
When the wife-and-husband team of Allison Russell and J.T. Nero put their raspy harmonies to folk songs like "Remember Wild Horses" or "Real Midnight," you're sucked into an otherwordly interplay of deeply soulful voices meditating on deeply personal hopes and fears. The songs of Birds of Chicago are as rich as acoustic music gets, and in the right venue — like, say, the Evening Muse — they will take you to church. The good kind of church. $15
Evening Muse
(map)
3227 N. Davidson St.
NoDa

704-376-3737
Fri., March 31, 8 p.m.

704-233-8300
l.kratt@wingate.edu
General, Blues/Roots/International
One of the tightest cross-cultural collaborations in history, the Nile Project concert brings together musicians from the 11 Nile basin countries, representing over 400 million people, to make music that combines the rich diversity of its ancient cultures and peoples. Using music to spark cultural curiosity, the Nile Project engages musicians and audiences, challenging them to connect to the world's longest river and explore new approaches to its social, cultural, and environmental problems. $25 Adult, $15 Student
http://battecenter.org/event-details/?_eid=100

George A. Batte, Jr. Fine Arts Center at Wingate University
(map)
403 N. Camden Road
Matthews

704-233-8300
Sat., April 1
Pop/Rock
In case you just read this rag for the Top 10 and the pictures, we want to introduce you to the band we featured last week, the angst-ridden local four-piece Dollar Signs. The pop-punk group is releasing their new EP, Life is Ruff, with the help of Mall Goth, Almost People and Normal Dennis. Judging by band names alone, this may be one of the most socially awkward shows in decades. $8-10
Milestone
(map)
3400 Tuckaseegee Road
FreeMore West

704-398-4072
Sat., April 1, 8 p.m.
Pop/Rock
One of the earliest cheerleaders for Winston-Salem singer-songwriter Caleb Caudle was not a promoter or club owner — it was the proprietor of an art shop, Teresa Hernandez, whose Pura Vida Worldly Art played host to some of Caudle's first jaw-dropping gigs in Charlotte. That seems like a million years ago now that Caudle's become a critically acclaimed national artist. Last March, Rolling Stone premiered Caudle's breezy "Carolina Ghost." $10-12
The Evening Muse
(map)
3227 N Davidson St.
General Charlotte Area

704-376-3737
Thu., March 30, 8 p.m.
Pop/Rock
It seems like several lifetimes ago when the Flaming Lips were a spikey acid punk band debuting at an Oklahoma trans club. The Lips catapulted to fame in the late '90s when they shed mind-warping discord for euphoric symphonic pop and founder Wayne Coyne's increasingly personal – yet still psych-tinged – lyrics. They've also collaborated with Miley Cyrus and recorded a stripped down remake of Pink Floyd's Dark Side of the Moon. Credit them with staying weird despite success. $42.40-$49.15
The Fillmore Charlotte
(map)
820 Hamilton St.
Uptown

704-916-8970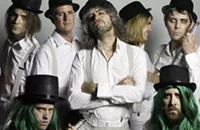 Visulite Theatre
(map)
1615 Elizabeth Ave.
Elizabeth

704-358-9200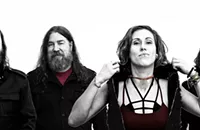 Showing 1-7 of 7 total results in this search.