Events Search – CL Recommends
9 total results
Second Tuesday of every month, 8 p.m.
Readings & Signings
The first Tuesday of each month is your chance to talk dirty. This open mic gives folks the chance to share stories about sex, desire and romance. If you've got the nerve to jump on stage, you'll get seven minutes to tell your tale, whether it has a happy ending or not, to a room full of strangers looking for a new guilty pleasure. Free admission
Hattie's Tap & Tavern
(
map
)
2918 The Plaza
Plaza Midwood

9809386228
First Tuesday of every month, 7 p.m.
Nightlife
Brew enthusiasts can expand their knowledge — rather than just their bellies! During Growler's buzz-worthy talks, hosted by brewers and distributors, you'll learn the art of craft brewing. Free admission
Growlers Pourhouse
(
map
)
3120 N. Davidson St.
NoDa

704-910-6566
Mondays, 7 p.m.
Festivals/Events
It's Find Your Muse open mic night at The Evening Muse this and every Monday. Musicians, grab up your music gear and head over to perform one of your own creations in front of a crowd. No one can guarantee they'll be liked, but constructive criticism is always helpful! Get there early to snag a performance spot. And, if you don't play, come out to watch. You never know who might show up. $3
Evening Muse
(
map
)
3227 N. Davidson St.
NoDa

704-376-3737
Hygge Coworking West
(
map
)
2128 Remount Rd.
General Charlotte Area
Sun., Feb. 26, 7 p.m.
Culinary
Beer and pizza. It's like peanut butter and jelly, Bey and Jay, McCrory and Pope — hard to think of one without the other. The combo offered up at this farm-to-table event will be different from your average suds n' slice. Chef Austin Crum will serve a four-course meal of local goodness, each course complemented with a seasonable beer from the Free Range Brewing Co. Crum and Jason Alexander of FRB partnered on a new beer brewed from locally sourced ingredients. $50
Pure Pizza
(
map
)
1911 Central Ave.
Plaza Midwood

980-207-0037
Tue., Feb. 28, 9 p.m.
Pop/Rock
The members of female-fronted punk quartet Take the Fall sound like they've been wired to an early-2000s radio permanently tuned to Blink 82 and Taking Back Sunday. That's not necessarily a bad thing, as long as the band's got songs. Luckily, Take the Fall's tunes are ace — the perfect mix of heart-on-sleeve vulnerability and crunchy kiddie-punk confection. Recent tunes such as snotty kiss-off "Calm Before My Storm" show the band pushing past its emo roots. $5-7
Milestone
(
map
)
3400 Tuckaseegee Road
FreeMore West

704-398-4072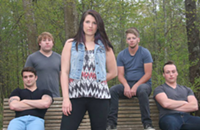 Mon., Feb. 27, 7-8:30 p.m.
Clubs & Organizations, Readings & Signings
Never judge a book by its cover, and never judge a panel by its title. Sitting around listening to a bunch of folks speak about the Women's National Book Association's 100-year birthday may not sound like your cup of tea, but these are some badass women. The panel includes Emoke B'Racz, owner of Malaprop's Bookstore and Café in Asheville; Ina Stern, recently retired associate publisher at Algonquin Books; and Betsy Teter, executive director at Hub City Press and Hub City Bookshop. Free.
Park Road Books
(
map
)
4139 Park Road
SouthPark

704-525-9239
Sun., Feb. 26, 8 p.m.
Pop/Rock
Thanks to boundary-stretching veterans like Joe Bonamassa, blues-based guitar rock is having something of a resurgence. It's been 17 years since his solo debut, but Bonamassa still has the fire and fluidity of a young gun, and he tempers his chops with a willingness to step away from the cliché with chords not usually heard in the blues. For his latest album, Blues of Desperation, he teams with crack Nashville songwriters, making the tunes as important as guitar pyrotechnics. $69
Belk Theater
(
map
)
130 N. Tryon St.
Uptown

704-372-1000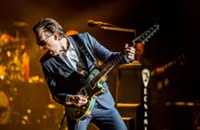 Wed., March 1, 7-9 p.m.
Film
A night of local film and local art and local music — well, local in the sense that you'll be singing it. First, enjoy a collection of short films put together by the Carolina Film Community, including The Hidden, winner of Charlotte's 2016 100 Words Film Festival. There's also an award-winning short film called Shit being screened, so that can't be bad. Follow the films up with a game of "Soundtrack Karaoke," during which it's safe to say at least three people will sign up to sing "My Heart Will Go On." Free.
Showing 1-9 of 9 total results in this search.