Events Today – CL Recommends
4 total results
Through Aug. 14
Visual Arts
Folks with a love for art and Forensic Files will find this new exhibit of works by interdisciplinary artist Alix Lambert to be a compelling look at crime and humanity. But there's more than finger prints to this exhibit, which takes its title from a claymation piece that Lambert worked on with other Charlotte filmmakers. Two animals share a cell in the flick that's designed to capture the essence of prison life. Free admission
McColl Center for Art + Innovation
(
map
)
721 N. Tryon St.
Uptown

704-332-5535
Mondays, 7 p.m.
Festivals/Events
It's Find Your Muse open mic night at The Evening Muse this and every Monday. Musicians, grab up your music gear and head over to perform one of your own creations in front of a crowd. No one can guarantee they'll be liked, but constructive criticism is always helpful! Get there early to snag a performance spot. And, if you don't play, come out to watch. You never know who might show up. $3
Evening Muse
(
map
)
3227 N. Davidson St.
NoDa

704-376-3737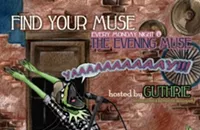 Through Sept. 5
Visual Arts
The body is a beautiful thing, but this exhibit is focused not on its natural state but rather on artistic expression. Highlighting 21st century trends in tattoos, piercings, manicures, jewelry and accessories, the exhibit focuses on the creative ways we embellish our skin. The exhibit includes 100 objects by artists and designers, including Naomi Yasuda, who has a claim to fame for work on Madonna's fingernails.
Mint Museum Uptown
(
map
)
500 S. Tryon St.
Uptown

704-337-2000
Through Sept. 7
Visual Arts
Fans of Henri Matisse, the renowned 20th century French artist, will find this exhibit as insightful as it is artsy. It features 80 paintings and illustrations from his art books, including Jazz. Highlights from the exhibit include "Le Cow-boy" (The Cowboy), "Le lanceur de couteax" (The Knife Thrower) and the striking, "Icarus."
Bechtler Museum of Modern Art
(
map
)
420 S. Tryon St.
Uptown

704-353-9200
Showing 1-4 of 4 total results in this search.