Events Today – CL Recommends
2 total results
Tue., Feb. 21, 7:30-9:30 p.m.
Country/Folk
According to Michael Trent and Cary Ann Hearst, who make up this Charleston folk duo, their new album Little Seeds "is as loud as we've ever been and as quiet as we've ever been." Not descriptive enough for you? The album ranges from raw electric feedback slammers to mandolin-led ballads, so be prepared to have your senses pulled in different directions at this show. Hearst grew up in Nashville then moved to Charleston to start a band, so she's comfortable going against the grain. $20-30
Knight Theater
(
map
)
430 S. Tryon St.
Uptown

704-372-1000
Tue., Feb. 21, 9 p.m.
Pop/Rock
Raunchy, rumbling and full-bore riot grrrl in outlook, Nashville's Thelma and the Sleaze are about as far as you can get from the vacuous bro-country that's been befouling Music City as of late. Led by LG (AKA Lauren Gilbert), this rambunctious garage-rock power trio hijacks the loose cannon sensibility and sludgy aesthetics of lesser known 1970s southern rock acts like Black Oak Arkansas and couples them with a fiercely feminist and queercore outlook. $7
Snug Harbor
(
map
)
1228 Gordon St.
Plaza Midwood

704-333-9799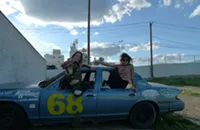 Showing 1-2 of 2 total results in this search.