Events Tomorrow – CL Recommends
3 total results
Sat., Oct. 22, 10 a.m.
Festivals/Events
The Charlotte Geeks are presenting the first ever Muggles Market held in Charlotte. It's a one-day bazaar of hand-crafted curiosities and eccentricities that will be a part of the larger Geek Gala. The 28 vendors set to be on site include names like Ms. Andry's Bath House and Banana Moustache. The perfect early Christmas shopping event for those with more quirky tastes. For more information, visit www.charlottegeeks.com/geek-gala/mugglesmarket/. Free (donations accepted)
Sat., Oct. 22, 8 p.m.
Country/Folk
There's an easy simplicity to Americana sextet The Speedbumps. Centered around singer Erik Urycki's breathy vocals, the music isn't too complicated, yet sets the stage nicely for the overall presentation and moments of harmonies. Hearing the band's music and lyrics in a stellar sonic setting like Evening Muse is ideal. Get there early to check out opener The Sea, as well. $8-$10
Evening Muse
(
map
)
3227 N. Davidson St.
NoDa

704-376-3737
Through Nov. 30, 6 p.m.
Visual Arts
This exhibit is about the power of perspective. It features work by experimental filmmaker Phil Solomon's and an optical installation from Ethan Jackson. It's also the debut of Sharon Dowell's "A City on its Side," a controversial mural (with a familiar face: CL contributor Lara Americo) created as a response to HB2. Jackson and Dowell will speak at the reception. Free
UNC Charlotte Center City
(
map
)
320 East 9th St.
Uptown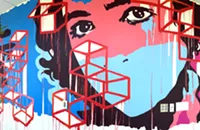 Showing 1-3 of 3 total results in this search.