Events Today – CL Recommends
2 total results
Tue., Sept. 27, 8 p.m.
Pop/Rock
This Icelandic folk-rock quartet is also inspired by the blues, as evidenced by their hit single, "Way Down We Go." The band's show at the Whitewater Center a few months back was canceled, so this will be their Charlotte premiere. Be sure to get their early for the stunning songcrafting of Bishop Briggs. Her album hasn't been released yet, but the strength of her first singles has gotten her opening slots on the summer's hottest tours.
Through Nov. 30, 6 p.m.
Visual Arts
This exhibit is about the power of perspective. It features work by experimental filmmaker Phil Solomon's and an optical installation from Ethan Jackson. It's also the debut of Sharon Dowell's "A City on its Side," a controversial mural (with a familiar face: CL contributor Lara Americo) created as a response to HB2. Jackson and Dowell will speak at the reception. Free
UNC Charlotte Center City
(
map
)
320 East 9th St.
Uptown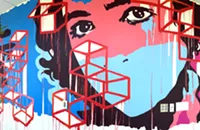 Showing 1-2 of 2 total results in this search.