Events Today – CL Recommends
3 total results
Thu., Oct. 20, 7 p.m.
Festivals/Events
Presenters will be addressing recent unrest in Charlotte that followed the death of Keith Lamont Scott with 20 images for 20 seconds. Organizers have chosen 11 presenters to act as "first responders of the art world" to express their feelings about the Charlotte Uprising. Organizers say it's the most diverse line-up to date, not only in terms of race but in terms of age, topics, etc. For more information, visit www.pechakucha.org/cities/charlotte/events/. $10
Thu., Oct. 20, 8 p.m.
Country/Folk
Better known as one half of the Grammy-winning duo The Civil Wars, John Paul White is now touring in support of his first solo album in 10 years, Beulah. Your guess is as good as mine as to why the Wars broke up, but White on his own is still worth checking out. His vocals and songwriting always convey strong emotion ­— regardless of the presence of a singing partner. $20-$22
Neighborhood Theatre
(
map
)
511 E. 36th St.
NoDa

704-942-7997
Through Nov. 30, 6 p.m.
Visual Arts
This exhibit is about the power of perspective. It features work by experimental filmmaker Phil Solomon's and an optical installation from Ethan Jackson. It's also the debut of Sharon Dowell's "A City on its Side," a controversial mural (with a familiar face: CL contributor Lara Americo) created as a response to HB2. Jackson and Dowell will speak at the reception. Free
UNC Charlotte Center City
(
map
)
320 East 9th St.
Uptown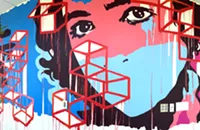 Showing 1-3 of 3 total results in this search.