Volunteers/Public Life Search – User Submitted
1 total results
Last Saturday of every month, 11 a.m.-4 p.m.

704-405-6967
Benefits & Fundraisers, Festivals/Events, Volunteers/Public Life
The Humane Society of York County will be featuring several adoptable pets at Petsmart. All ages, breeds, and sizes available! Come by and help support local pets find forever homes! Free
Petsmart
(
map
)
9515 South Blvd.
Pineville/Hwy 51

704-405-6967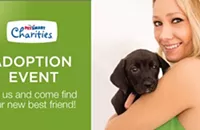 Showing 1-1 of 1 total results in this search.