Events Search – User Submitted
4 total results
Sat., Feb. 25, 10-11 a.m.
Health & Fitness, General
DESCRIPTION Reggae Yoga $10 Beginner-Friendly Class. You will be guided through mindful breathing, a Gentle Yoga Flow and uplifting meditation set to a smooth Reggae Soundtrack. Leave feeling energized and renewed in mind, body and spirit. Location: NoDa @ 28th Creative Arts Studio 2424 N. Davidson St, Charlotte, NC 28205 Ste 110 - Studio C Purchase tickets on Eventbrite: https://www.eventbrite.com/e/reggae-yoga-tickets-32030824057?aff=ehomecard #Yoga #Wellness #Fitness #SelfCare #ThingsToDoInCharlotte 10.00
NODA @ 28th Creative Arts Studio
(
map
)
2424 Davison Street
NoDa

980-309-1318
Wednesdays, 7-9 p.m.

704-604-4195
contact@ncacademyofart.com
Visual Arts, Lectures, Classes & Seminars
Open to the public, uninstructed figure drawing sessions are held at The North Carolina Academy of Art every Wednesday from 7-9pm. $10.00
http://www.ncacademyofart.com
The North Carolina Academy of Art
(
map
)
3224-B Benard Avenue
NoDa

704-604-4195
contact@ncacademyofart.com
Thursdays, 6:30-8:30 p.m.

704-344-8186 ext
psmith@timeoutyouth.org
Support Groups
Q-tribe is a weekly suport group for youth ages 13-20 who are trans and non-binary. Q-Tribe is a structured group designed to promote personal growth and discovery through shared experiences, education, and respect with a goal of providing a safe space where transgender youth can be their authentic selves in a judgment free environment. Parker Smith, Time Out Youth's Transgender Outreach Worker, will be group leader and will bring a clinical and personal approach to the meetings. Q-Tribe is an open group and does not require prescreening to attend. The meetings will be held every Thursday from 6:30-8:30pm. free
Time Out Youth
(
map
)
2320 N. Davidson Street Unit A
NoDa

704-344-8335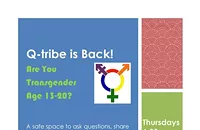 Second Saturday of every month, 10-11:30 p.m.

704-728-6522
improvvikings@gmail.com
Comedy
One unforgettable night of hilarious, improvised comedy skits performed by the best improvisers in the Carolinas! 100% made up on the spot from audience suggestions, this unscripted show will have you in stiches. Audiences and critics alike are raving! Come see what all the fuss is about! $10 in advance, $15 cash at the door
https://www.eventbrite.com/e/impov-vikings-invade-noda-tickets-18694817703

Showing 1-4 of 4 total results in this search.