Community Happenings Today
1 total results
Fri., Oct. 21, 7:30-8:30 p.m., Sat., Oct. 22, 2-3 p.m. and Sun., Oct. 23, 2-3 p.m.

704-846-8343
contact@matthewsplayhouse.com
Theater/Dance/Performance Art, Family
E.B. White's beloved children's tale is brought to life in this play, which finds the young farm pig Wilbur attempting to avoid a dire fate. Of all the barnyard creatures, Wilbur finds his best ally in Charlotte, a thoughtful spider who devises an intriguing plan to keep the gentle little swine out of the slaughterhouse. Although Charlotte's efforts to write awe-inspiring words in her delicate web might seem far-fetched, they may just work. Regular - $13; Children, Students & Seniors - $11
http://www.matthewsplayhouse.com/index.php/shows/upcoming-shows/mainstage-productions/charlotte-s-web

Fullwood Theatre @ Matthews Community Center
(
map
)
100 E McDowell Street
Matthews

704-321-7275
cmarble@matthewsnc.gov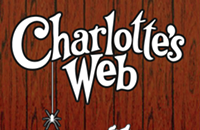 Showing 1-1 of 1 total results in this search.