Live Reviews
Tuesday, August 23, 2016
Posted By Jeff Hahne on
Tue, Aug 23, 2016

at

1:50 PM

Charlotte Pride f. K. Michelle, Eden XO, Vassy and more

Uptown Charlotte

Aug. 20, 2016



Tens of thousands of people swarmed downtown on Saturday, Aug. 20, 2016, for the first day of the Charlotte Pride festival. An array of sonically diverse performances took place on one end of Tryon Street as artists covering a range of genres from pop and hip-hop to rock and folk entertained the masses.

Headliner K. Michelle had the crowd singing along to her heartfelt R&B, while Eden XO and Vassy both got the crowd moving and grooving.

Local bands Lovesucker and Dust & Ashes were highlights with strong songwriting and performances.

Singer Trey Pearson shared his story of coming out with the crowd, while emcees Big Mamma D, Delighted Tobehere, Joanne Spataro and Malachi kept the audience entertained between acts.

The overwhelmingly happy mood of the day wasn't deterred by protesters, and one couple even got engaged on stage. Though HB2 has made it difficult for some venues and events to find music acts, Charlotte Pride continued to showcase a strong variety, showing that love can conquer all.
Charlotte Pride, 8/20/2016
Tuesday, August 16, 2016
Posted By Jeff Hahne on
Tue, Aug 16, 2016

at

9:55 AM

Dixie Chicks
PNC Music Pavilion
Aug. 13, 2016


In the age of social media, when you think about the comments people make about presidents and presidential candidates, it seems kind of silly that the Dixie Chicks were so harshly viewed for making the statement, "we're ashamed the President of the United States is from Texas" about then-president George W. Bush.

It's been a rocky 10 years since that statement was made — a decade that saw the Dixie Chicks playing shows here and there but hesitating to hit the road for an extended run. Singer Natalie Maines, a big fan of Howard Stern, would often appear on his Sirius XM radio show and say she felt unsure about how fans would receive them after the 2006 blacklisting by country radio.

Now, as time has passed and fans have constantly turned out for sporadic shows over the years, the Dixie Chicks are in the midst of a 40-date run during which the ladies are being welcomed back with open arms by their fan base and the Charlotte show was no different.

Fans and the band alike were all smiles throughout the more than two-hour performance that included a handful of cover songs, plenty of hits and a short tribute to Prince.


Tuesday, July 26, 2016
Posted By Anita Overcash on
Tue, Jul 26, 2016

at

2:29 PM

Garbage w/ Kristin Kontrol
The Fillmore
July 23, 2016
Kristin Kontrol, Kristin Welchez's latest music outfit following the Dum Dum Girls, is a synth-pop act fitting for Garbage's opening act. The music had a low-key, '80s feel, yet lacked the catchy bounce that tunes from that era often possessed. It's ok though. The general mood and anticipation of seeing Garbage was enough to lift the mood.

Original Garbage members Shirley Manson, Duke Erikson, Steve Marker were joined by Eric Avery, an original bassist for Janes Addiction and Eric Gardner, who was filling in for the legendary Butch Vig.
As always, the band was on top of its game with Manson rocking her front woman status in leopard print attire and fresh hot pink hair color. The band mixed new and old songs, sometimes diving in and pulling out the unexpected (including deep dark goodies from its 1995 debut album, like "Super Vixen," "Stroke of Luck," and "Vow"), as well as gems from throughout the band's lengthy catalogue.
Prior to breaking into "Sex is Not the Enemy," Manson addressed "Queer," from the band's debut album and a time period when it was a risky single choice. She addressed her respect for the LGBTQ community and their rights but kept things brief, telling her audience that she'd return to the subject later. That return came with her specifically showcasing her stance on HB2 — she strongly opposes the bill and knows that most of her fans do, too — and the debate on whether or not to play in Charlotte. All that was before she broke into "Androgyny," a track from 2001's Beautiful Garbage.
Other highlights from the show included classics like "Paranoid," "Special," "Bleed Like Me," and "Only Happy When It Rains," played somewhat softer than it's recorded component, and "Push It." Prior to playing the latter, Manson welcomed an 11-year-old from the crowd onto the stage to play the drums. That kid is going to have one hell of a story to tell the grandkids.
Garbage came back for an encore and played "Sometimes" and "Empty," both from 2016's Strange Little Birds, and closed the set with "#1 Crush," a song that was remixed for the 1996 soundtrack for Romeo + Juliet.

Setlist
Supervixen
Paranoid
Stupid Girl
Authomatic Systematic Habit
Blood for Poppies
The Trick is to Keep Breathing
My Lovers Box
Sex is not the Enemy
Special
Stroke of Luck
Doomed
Why Do You Love Me
Androgyny
Blackout
Bleed Like Me
Push It
Vow
Only Happy When it Rains
Cherry Lips

Encore
Sometimes
Empty
#1 Crush

Posted By Jeff Hahne on
Tue, Jul 26, 2016

at

9:54 AM

Merry Jane Presents the High Road Summer Tour featuring Snoop Dogg, Wiz Khalifa, Kevin Gates, Jhene Aiko and Casey Veggies

PNC Music Pavilion

July 24, 2016



After Sunday night, a sarcastic person might bet that there's no weed left in North Carolina. An absolutely packed lawn at PNC Music Pavilion appeared as if it was on fire as smoke billowed above the sea of people. What else would you expect from a tour that features Snoop Dogg and Wiz Khalifa as its headliners?

Hip-hop's ambassadors of pot were the clear draw for the Merry Jane Presents the High Road Summer Tour, which also featured Kevin Gates, Jhene Aiko and Casey Veggies. While the first three acts came and went in straight-forward fashion, it was the primetime duo that everyone was waiting for.

With a huge blunt in hand, Snoop Dogg took the stage and performed a couple of hits before letting Wiz Khalifa do the same. It was an odd dichotomy for anyone who might be a fan of one more than the other — you could sing along and get in the groove, and then wait for a few songs and do it again. Somehow though, it worked. Khalifa brought plenty of energy and Snoop's laid back demeanor offered a good balance — no weed required.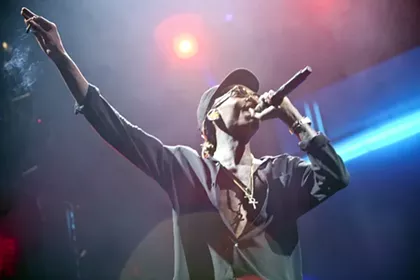 The High Road Tour, 7/24/2016
Posted By Jeff Hahne on
Tue, Jul 26, 2016

at

9:50 AM

Kool & The Gang, Bootsy Collins, Morris Day & The Time, Big Daddy Kane

PNC Music Pavilion

July 22, 2016



There might not have been a swarm of people filling PNC Music Pavilion on Friday night, but that didn't stop four artists from laying the funk down and bringing the grooves.

When emcee Big Daddy Kane first took the stage, the crowd was sparse and appeared uninterested. By the time Kool and the Gang walked on stage, the crowd was fired up and ready to dance the night away.

It was a format that slowly built in energy — from the opening notes of Morris Day & The Time playing a tribute to Prince to the slappin' funk of Bootsy Collins who offered plenty of P-Funk moments. After Collins, Kane offered a few songs and the fans were on their feet, primed for Kool & The Gang to bring it home and they didn't disappoint.

The lineup has changed over the years, but there were plenty of people singing along to all the hits, including "Jungle Boogie." They might have been able to put the show in a smaller venue, but those in attendance didn't notice, as the majority of people there were too busy dancing and singing along.
Kool and the Gang, 7/22/2016
Wednesday, June 29, 2016
Posted By Alison Angel on
Wed, Jun 29, 2016

at

3:50 PM

Twenty One Pilots, Mutemath, Chef'Special
Charlotte Metro Credit Union Amphitheatre
June 28, 2016

The Twenty One Pilots show was the hottest ticket in town on Tuesday night. For those hopefuls trying to snag an extra ticket outside of the amphitheater at Music Factory to no avail: I hate to be the bearer of bad news, but this show was definitely worth the hype.

Twenty One Pilots showed proved themselves as an epic force to be reckoned with. They are a band that has earned its newly minted big-timer status. What's funny? The group couldn't be smaller, numerically: there are only two dudes in the band. Yet those two dudes, singer Tyler Joseph and drummer Josh Dun, manage to put on a two hour show that could rock even bigger arenas.
Charlotte Metro Credit Union Amphitheatre was packed.

The crowd was an odd mixture of little kids in makeup to parents that looked just as excited to see the duo. Seats completely sold out, right down to the last blade of grass on the lawn. You really can't blame hopefuls who were pursuing scalpers months in advance and hoping to get in on the action. Twenty One Pilots tore through a 22 song set that was full of surprises, including a giant hamster ball. Yes, I said, a giant hamster ball. But we'll get to that later.

For some background, Joseph and Dun hail from Columbus, Ohio. They started the musical duo in 2009 (with a few former members). They self-released two albums before being signed by Fueled By Ramen in 2012, and their most recent release Blurryface hit number one on the Billboard 200, spawning two massive radio hits "Stressed Out" and "Ride." Now, they're going from city to city selling out shows on their aptly named "Emotional Roadshow" world tour. This whole production is a dream come to life for them and they're very open about it. That, along with some musical genius and multi-talented musicians, is why they inspire such a passionate following of fans.



Thursday, June 23, 2016
Posted By Alison Angel on
Thu, Jun 23, 2016

at

10:50 AM

Taking Back Sunday, Dashboard Confessional, Saosin and The Early November
Charlotte Metro Credit Union Amphitheater
June 21, 2016

The Charlotte stop of The Taste of Chaos Tour hit the Music Factory on Tuesday night to a packed house. Everyone was more than willing to wait in 90-degree heat to see a this year's lineup with a nostalgic theme. With headliners like Dashboard Confessional and Charlotte's own Taking Back Sunday, it's no surprise the Charlotte Metro Credit Union Uptown Amphitheatre was filled.

As the sun slowly sank, Saosin and The Early November opened up with solid half hour sets (Saosin missing Anthony Green due to a delay at the airport). What crowd there was at that point milled about, taking in the show but clearly biding their time until the headliners. The amphitheater wasn't even half full until Taking Back Sunday really hit their stride, suddenly bursting at the seams as they screamed along to the band that voiced their high school experience.

Taking Back Sunday played a 13-song set to the roaring crowd. They received the kind of welcome only a hometown can give you (frontman Adam Lazzara lives right around the corner in NoDa, as does guitarist Nathan Cogan). They started with a few throwbacks, fan favorites like "Cute Without the E (Cut from the team)" and "Liar (It takes one to know one)."

Seeing them onstage, it's clear that these guys have been doing this for the past 17 odd years—they really have a handle on how to work a stage and a crowd, especially Lazzara. "I understand a lot of you probably came out this evening for nostalgic purposes," Lazzara said between songs. "There ain't nothing wrong with that ladies and gentleman…. But you do know what that means, yeah? That means we've been doing this together, we've been growing together! I was there when you were smoking cigarettes out behind your high school. I was there when you got your driver's license…and all that to say here I am, in Charlotte, North Carolina, I'm still here today."

Lazzara in person is like an evangelical preacher, bending the crowd to his every whim. The five-piece band roared through a set consisting of fan favorites and a few newer songs, including a brand-new track from their upcoming album called "Tidal Wave" that, as Lazzara said, "Is too damn good not to play."

Dashboard Confessional got a few more songs in as they took the stage around 10, opening with "Vindicated" as the impressive LED display illuminated the foursome. The band is much less interactive and talkative than Taking Back Sunday, but it's clear why they were the evening's frontrunners.

Every single person in the crowd sang along to what seemed to be the soundtrack to their high school and college years. Taking Back Sunday may command the stage with their presence, but Dashboard Confessional manages to do it through two guitars, a bass and drum kit, and the insane vocals of Chris Carrabba. He barely had to speak to get the crowd amped up; all he had to do was launch into the opening verses of fan favorites like "Screaming Infidelities" or "As Lovers Go," and they were eating out of the palm of his hand.

As a foursome, they have their live show down pat. Having four talented musicians on a stage together isn't always enough to have the right chemistry for a rock show, but it's something that Dashboard Confessional have always managed perfectly, and this year was no exception. Their 16-song set was full of the right mixture of old and new songs that got Charlotte on their feet and swaying to the beat. This is only the third week of Taste of Chaos, so if you missed their Charlotte stop, there's always the chance to catch them in another city. And you should probably take that chance.


Taking Back Sunday setlist
1. Cute Without the E (Cut from the Team)
2. Liar (It takes one to know one)
3. Flicker, Face
4. What's It Feel Like to Be a Ghost?
5. A Decade Under the Influence
6. Stood a Chance
7. You're So Last Summer
8. Holy Water
9. Timberwolves at New Jersey
10. Better Homes and Gardens
11. Error: Operator
12. Tidal Wave
13. MadeDamnSure

Dashboard Confessional setlist
1. Vindicated
2. The Sharp Hint of New Tears
3. The Good Fight
4. Saints and Sailors
5. As Lovers Go
6. The Swiss Army Romance (acoustic)
7. The Places You Have Come to Fear the Most (acoustic)
8. Remember to Breathe (partially acoustic)
9. Don't Wait
10. Again I Go Unnoticed
11. The Best Deceptions
12. Heart Beat Here (acoustic)
13. Screaming Infidelities
14. Fix You (Coldplay cover)
15. Stolen

Encore:
16. Hands Down


Monday, June 20, 2016
Posted By Jeff Hahne on
Mon, Jun 20, 2016

at

10:10 AM

Lake Street Dive, The Lone Bellow

The Fillmore

June 17, 2016

Just over three years ago, I caught Lake Street Dive during a

sold-out show at the Evening Muse

. Since that time, the band has been back in town several times, performing for sold-out crowds at bigger venues along the way.
Tuesday, June 14, 2016
Posted By Anita Overcash on
Tue, Jun 14, 2016

at

4:45 PM

Ellie Goulding w/ Matt and Kim
Charlotte Metro Credit Union Amphitheatre
June 9, 2016

Brooklyn-based indie pop duo Matt and Kim opened with an energetic set. If you've never seen the pair, they are a sight to behold. Although they display more goofball antics as opposed to true musical talent, they did a good job at entertaining the crowd who jumped along to songs throughout their set. Drummer Kim climbed on her drums between songs and made bad jokes to vocalist/keyboardist, Matt. Their performance of "Daylight" was a highlight.

Needless to say, there was reason to be extra excited when Ellie Goulding finally hit the stage with an entourage of musicians, backup singers and dancers. The EDM pop princess has changed a good bit since I last saw her years back at a show in Minneapolis, Minnesota. Part of that change had to do with the extra bodies onstage while the other part had to do more with a diva, sex appeal persona radiating from Goulding throughout the night. On songs like "Something In the Way You Move," and "Keep on Dancin'" buff male dancers worked their way around Goulding, at times even drawing her closer with ropes in a BDSM fashion.

But Goulding's sweet side came out on acoustic numbers like "Devotion" and the heartfelt "Army," a song written about one of her best friends who is currently on the road with her. A slideshow consisting of photos of the besties was flashed on the big screen.

Goulding mostly played songs from 2012's Halcyon and 2015's Delirium, but she didn't forget the song that helped to launch her career, "Lights" from her 2010 album of the same name. She finished her lengthy set with some of her most popular songs to date – "Need Your Love," "Burn," "Anything Could Happen," and "Love Me Like You Do." During the latter, there was a confetti blast to close the night's exuberance.

Setlist
Aftertaste
Holding on for life
Goodness Gracious
Something in the Way You Move
Outside
Devotion
Keep on Dancin'
Don't Need Nobody
Explosions
Lights
Army
Lost and Found
Figure 8
On My Mind
Codes
We Can't Move To This
Need Your Love
Burn
Anything Could Happen
Love Me Like You Do

Posted By Alison Angel on
Tue, Jun 14, 2016

at

8:00 AM

There are endless options for Saturday night entertainment in Charlotte, but only one venue mattered on June 11. DJ Audien paid the Music Factory a little visit, spinning to a packed house at Label Nightclub from midnight until well into Sunday morning. The place was literally pulsing from the moment he came out, the walls shaking from his energetic performance that kept every single person in the small club bouncing off the walls for the entirety of the two hour set.

Audien, or Connecticut born Nathaniel Rathbun, started producing music as a teenager. He began creating his 'happy hardcore' tracks and released them on Only Vibes Recording, a digital label he co-founded with the producer Naggy. After a few transitions both musically and label wise, he's transformed himself into the DJ with we know and love. Now, he sells out major venues all over the world, headlining EDM festivals with his progressive house music and euphoric sounds, dominating the Billboard dance charts. It's a pretty impressive resume for a 24-year-old.

To say Audien's performance was energetic is an understatement. He's known for Grammy nominated remixes and for his trademark sound that can runs the gamut from trap and dubstep to electro house - all of which came together Saturday for an uplifting soundtrack that made everyone want to dance the night away. The transitions were smooth and Audien planned his set perfectly, carefully bringing the sound and energy to a crescendo as he moved through different genres of music.

The energy of both DJ and crowd was amplified throughout the set with an impressive laser lights show and smoke effects from Label. Perfectly timed smoke poured onto the crowd below each time the beat dropped, confetti was released periodically and the sound system was on point. By the end of the night both Audien and the Charlotte crowd left sweaty, energetic and smiling.