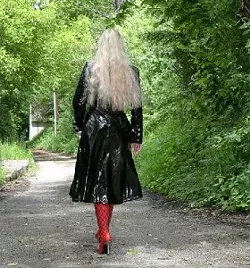 My best friend is a hopeless romantic and right now she's in the best relationship ever.
But one thing I can say about my friend is that she doesn't really pay attention.
Last night was big night for college basketball fans. And her man is a Duke fan. (Hey, he can't be too perfect.)
Still, my friend decided that she wanted to surprise her man with a special treat — her pussy. When she called me and asked if she could borrow my "Wonder Woman" boots, I should've asked more questions than, "Do you want the red ones or the black ones?"
Of course she took the red ones because they matched her rain coat. When she came over to get the boots, she hipped me to her plan. She was going to take a basket of strawberries and whipped cream to her boyfriend's place and she was naked underneath her raincoat.
"And this is a surprise for him?" I asked. "Are you sure he's at home?"
"I just texted him and asked if he was home and he said yes."
At this point (hindsight is 20/20), I should've checked what was on broadcast TV, but I was watching Thelma and Louise, thinking that this movie would've been hot if Thelma and Louise had got it on in the hotel room after the murder.
"Have fun," I said after she'd zipped the boots up.
About 30 minutes later, my cell phone rang. Was it the booty call I'd been hoping for? Hell no, it was my best friend.
"What are you doing calling me?" I asked.
"Girl, you will not believe what happened. First of all, why didn't you tell me Duke was playing tonight? I go to his place, knock on the door and when the door opens, I open my coat — and guess what? It wasn't him who opened the door, it was his friend T."
I shouldn't have laughed, but I did. "I was so embarrassed," she said, ignoring my laughter. "When he comes to the door, he looks at me as if I've killed his dog. What are you doing here with no clothes on? I told him, I was hoping to surprise you, I didn't know you had company."
As it turned out, her man had three of his friends over watching the game on his plasma and eating hot wings. While she was trying to explain what she was doing, one of her man's friends calls out, "Hey, is there really a stripper at the door?"
My friend said her cheeks were on fire. Especially since she knew she'd be seeing T again, she and her man often bowl with T and his wife.
"Where are your clothes," she said he asked. "I told him, I don't have any with me, I was hoping that we could, you know, do it like in the movies tonight."
"The game is on, babe and I can't kick them out. Any other night, it would be on."
So, I asked, "When am I getting my boots back?"
"Oh shut up!" she said then hung up.
The lesson from this story? Well, there are three:
March madness is not the time to show up at your basketball-loving boyfriend's house naked.

When trying to surprise your mate, call don't text.

Always look to see who opened the door before flashing your goodies.