By now, you're tired of the cougar.
click to enlarge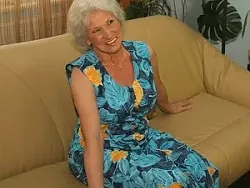 But are you ready for grandma?
A good friend of mine asked me just this morning if I'd ever watched "granny porn." All the while I was thinking, "I don't even wear granny panties, so why would I want to watch old-ass women fucking?"
He has been watching these movies a lot. He even said, "I noticed that a lot of these women are from Eastern Europe. It's not as if they were porn stars before. I think they are just old women who needed money."
And this is a good thing? He explains further. "I'd rather watch the old women — rather than watching an 18-year-old thinking that she was kidnapped and pumped full of drugs to do this."
I can respect the thought process. But eww! Then I thought about The Golden Girls. Rue McClanahan's Blanche Deverauex. She was always having unseen sex on that show, and I have to admit I still watch The Golden Girls at night on WE and the Hallmark Channel.
So, I decided to check out some links to granny porn. And ... it wasn't what I thought it was going to be.
Look for yourself. (Links are NSFW)
Grandma with a bottle of wine.