Over the last 10 months, we've seen a lot — especially when it comes to cheating. So, since the public can't seem to get enough of those homewrecking hussies who just can't shut up about the famous men they bang, Creative Loafing has come up with our own list of the top 10 mistresses who've rushed the headlines in the last 10 months.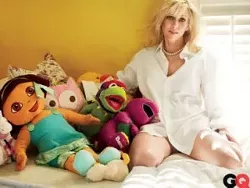 10. Rielle "I call him Johnny" Hunter:
She slept with then-presidential candidate John Edwards while his wife fought cancer. We would've forgotten about Rielle, who lives in Charlotte, were it not for an unfortunate spread in
GQ
magazine ... and then her interview on the Oprah Winfrey Show.
9. Porn star Josyln James: She allegedly slept with Tiger Woods, the world's most famous (and now infamous) golfer. She wanted a personal apology. She put up a website showing all the freaky messages Woods allegedly sent to her during their three-year affair. And she's in Charlotte this weekend getting naked on stage at the Uptown Cabaret. Guess where Tiger is. Across town at the Quail Hollow Championship. But she is not a stalker.
8. YaVaughnie Wilkins: She slept with businessman and presidential advisor, Charles Phillips. Then as their affair came to an end, she purchased some big billboards in New York, Atlanta and San Francisco with her picture and a loving quote attributed to Phillips. Those cities are places he and his wife frequent. Lovely.
7. Michelle "Bombshell" McGee: She slept with Jesse James, the soon to be ex-husband of Oscar-winning actress Sandra Bullock. With multiple tattoos and some Nazi affiliations in her background, she's not a bombshell — just what's left after an explosion. And the letter she sent to Bullock was supposed to be an apology, but it sounded as if she just wants a reality show.
6. Jamie Jungers: She's another one who allegedly slept with Woods. What makes her stand out is the fact that she claimed she didn't know Woods was married. She was also one of the first ones to come out publicly.
5. Melissa Smith: A stripper who slept with Jesse James after meeting him on MySpace. Who still does that? Also sent out an apology to Sandra Bullock. She did it by fax. Who still does that? Well, these mistresses must be reading from the same "15 minutes handbook."
4. Zakiya Khatou-Chevassus: While singer Wyclef Jean was raising money for Haiti, she was allegedly sleeping with the singer and getting paid by the YELE Organization. According to mmehiphopnews.com, Wyclef had to answer to allegations regarding his $105,000 payment to his personal assistant Khatou-Chevassus, who he was rumored to be having an affair with. Those allegations came in the midst of rumors that Jean was also sleeping with his former manager, Lisa Ellis, former VP of Urban at Sony Music after nude pictures were leaked online that were allegedly sent to Jean.
3. Maria Belen Chapur: She is the woman who brought down a governor, even if it was on Mark Sanford from South Carolina. The Argentine woman had been having an affair with the LuvGuv that had him writing sexy, yet corny emails and heading to Argentina to see her. Yet, he told the people of the Palmetto State that he was "hiking the Appalachian Trail." I guess that means going up a skirt.
2. Brooke Hundley: She's the ESPN intern who allegedly banged Steve Phillips, then stalked his family. I guess that's what they are teaching in sports news these days. Phillips lost his job and was one of the first cheating men to enter rehab for his dick. Hopeful Hundley entered some kind of treatment for her crazy.
1. The other alleged 119 women Tiger Woods slept with: This week the final numbers came out and it's just crazy that in the era of HIV, AIDS and other STDs that a man — no matter how much money he has — can sleep with that many women and still go home to his wife. Shame on them and here's hope someone went and got tested!