Ah, Thanksgiving! The one day (not counting Christmas, Super Bowl Sunday and the day you find out your merit raise is a $25 Wal-Mart gift card) you feel entitled to gorge yourself to your heart's content -- and beyond. This is not the time to worry about carbs or fat or sugar -- most people have Friday and the weekend to sleep or work it all off.
click to enlarge
In that spirit, we present suggestions for a multi-course meal guaranteed to send you to the medicine cabinet or nearest Eckerd for Mylanta (and maybe some syrup of ipecac).
It takes a long time to cook the bird, so you'll want to get started way before it emerges from the oven all golden brown and crispy. Snacks are mandatory complements to the football games, which start at 12:30. What better time for those little cocktail franks wrapped in Pillsbury biscuits -- the treat affectionately known as pigs in a blanket? Toss together a bowl of Chex mix, tear open bags of chips and combine some onion soup mix with sour cream for dip. Set out a big tub of pimento cheese and some Ritz crackers, wash it all down with cold beer or hot apple cider and you're good until it's time to sit down at the table.
Once the whole gang has assembled, the real fun begins. Shrimp cocktail with tangy horseradish sauce is a nice opener. Follow that with Clams Casino redolent with bacon, shallots, garlic and lots of butter. You'll also need plenty of hot rolls (with more butter) to sop up the sauce. Be sure to have celery sticks and olives on the table for show.
After that comes pureed butternut squash soup spiked with white wine and sherry and topped with a healthy dollop of crème fraiche. Some garlic toast goes nicely with this course.
Now you can honor the melting pot that is America by including some real ethnic food. How about a gooey lasagna layered with ground beef, sausage, ricotta, mozzarella and parmesan cheeses and held together with béchamel and rich tomato sauce? Don't forget the Italian bread.
Now stand up, stretch and check out the half-time show for a few minutes (there's bound to be one on about now) while the pasta plates are being cleared and a clean napkin is put over the tablecloth to hide the stain from Aunt Mamie's spilled red wine.
click to enlarge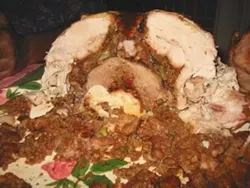 It's time for the main event. Side dishes are as much a part of Thanksgiving as the bird, and variety is essential. Sweet-potato casserole with maple syrup and marshmallows is a must. Add on more carbs with white potatoes whipped with at least a stick of butter, heavy cream and sour cream with chives mixed in. The day wouldn't be complete without that ever-popular green-bean casserole with the beans drowning in cream of mushroom soup and milk and topped with french-fried onions. Little boiled onions in cream sauce (my family calls them musical bon-bons) and brussels sprouts tossed with bacon (so what if only one person likes them?) add to the assortment. Cranberry sauce (out of the can and homemade with whole berries and port wine) will add some color, and ambrosia -- that salad with pineapple, coconut, oranges, sour cream and marshmallows -- offers a cool break from the hot dishes.
The star of the meal is, of course, the bird. But instead of just a plain-old turkey, the ultimate gorgefest must include turducken. That's a chicken inside a duck inside a turkey -- you're looking at about 30 pounds of meat. Three different kinds of savory stuffing -- oyster, sausage and cornbread, for example -- easily add another five pounds to create a 35-pound centerpiece for the table. This culinary construction will take a couple of hours of prep time (it's a lot of work to de-bone the three birds, stuff them and truss them up) and at least nine hours of cooking time. The giganto-fowl will literally burst with flavor, especially after you ladle on gobs of gravy made from the turkey giblets, duck fat and pan drippings.
Finish off your meal with dessert -- sky-high apple pie with vanilla ice cream, pumpkin-custard pie with freshly whipped cream, maple-cream flan and sweet-potato layer cake with orange cream-cheese frosting. That should set your blood sugar level on high for awhile.
After all this, a nice cup of coffee with sugar and heavy cream and a snifter of cognac should be all you need before you sit back, loosen your belt (if it hasn't already whiplashed off your waistline) and reflect on those visions of sugarplums that await you come Christmastime.