For all general purposes, a mainstream movie is a mainstream movie -- large budgets, recognizable actors, plenty of studio hype -- but independent films come in all shapes and sizes. There are the high-profile indie films that are generally released through major studios' art-house arms (Lost In Translation, Good Night, And Good Luck); there are the indies produced by companies that specialize in alternative fare (Monster, Murderball); there are the indies made by regional filmmakers all across the country (locally, Dorne Pentes and Mark Young are two such enterprising talents); and then there are the indies produced by underground moviemakers, films so off the beaten path that they usually only garner ink in specialty magazines and on Web sites devoted to subversive cinema.
click to enlarge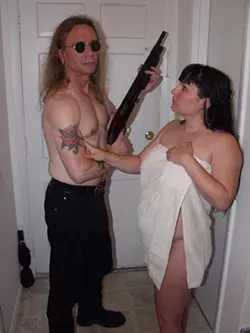 With a resume filled with such titles as Acid Is Groovy Kill the Pigs, Is It Snuff? You Decide! and Amy Strangled a Small Child, Joe Christ clearly falls into the last camp. For close to two decades, Christ, who writes, directs, produces and occasionally acts in his own projects, has been making short films guaranteed to offend all but the most hardened sensibilities. (His works are available on DVD; go to www.joechrist.com for details.) And Christ is nothing if not an aggressive promoter of his own output: He's traveled with his films all over the country, screening them for devoted fans, thrill seekers and the merely curious in cities from coast to coast. He's even come to Charlotte on several occasions and will be returning to the Queen City this weekend to present his latest film.
Set in Atlanta (where he currently resides) and narrated by a talking Boston terrier, That's Just Wrong! centers on the unusual relationship between a suburban woman (played by model Little Sebastien) and the stalker (Joe Christ) who moves into her home. Longer than Christ's past efforts, this qualifies as his first feature-length picture, clocking in around 75 minutes.
On the eve of his Charlotte stop, Christ took some time to answer several questions about his controversial oeuvre.
Creative Loafing: How many times have you come through Charlotte to screen your movies? And have these showings gone pretty much as expected, or were there any complications or bizarre incidents?
Joe Christ: I've held at least half a dozen screenings in Charlotte, mostly between 1996 and 1999. Nothing truly unusual happened at any shows, although at my first Charlotte screening, the nameless owner of a nameless venue shot some streetlights out with a shotgun. Perhaps that qualifies as a bizarre incident, but it wasn't really related to my show as much as to the guy's personality.
CL:Have any of your screenings been subjected to picketing or attempts to have them cancelled by, say, the religious right or concerned citizens or the police?
Christ: Not in a long time. The first time I ever did a show in Little Rock, AR, this youth minister and some of his youngsters passed out pamphlets and told the people standing in line not to see my movies. That was back in, like, 1992. When I went on a two-month premier tour for my pseudo-documentary comedy Acid Is Groovy Kill The Pigs, the police in several cities interfered with my shows -- in Columbus, OH, the cops gave jaywalking tickets to patrons and shined a spotlight through the window onto the screen, forcing me to stop the show long enough to tape black construction paper over the glass. The police in Houston, Colorado Springs and Asheville also hassled the venues where I was showing the movie. In 1997, in Ft. Smith, AR, the police showed up and threatened me with arrest. The venue owner had let a bunch of kids into the show, and the cops had walked in right in the middle of a nude scene. Somehow, we convinced them to go away after all of the underage people were asked to leave.
CL:What scenes from your past flicks have proven to be the most offensive to audience members, based on walkouts or fainting spells or barfing?
Christ: Ha! With Communion In Room 410, my very first movie, the whole film from start to finish was generally worth a creeped-out departure. In Crippled, there's a scene where my character is licking his bloody hand after he's finished fisting a quadriplegic; I had a whole theater full of people walk out of a screening of that film in Oxford, MS, back in '92. Now it's one of the movies that fans are always writing to me about, telling me that it's their favorite of my pictures. Go figure. Later, when I made the body-mod documentary Sex Blood & Mutilation, there were two scenes that caused a lot of fainting. One was the segment with Genesis P-Orridge getting a series of deep and profusely bleeding scalpel cuts into the flesh of his arm. The other is the final segment featuring a guy who had his penis amputated and is showing off the final result. Many grown men hit the floor during that scene.
CL:I think it's safe to assume John Waters was a major influence, but are there any other filmmakers who have inspired you?
Christ: Yes, the earlier John Waters stuff, especially the early '70s era, was a huge influence. I saw Pink Flamingoes when I was 15 -- one of my teachers took me to see it -- and it certainly changed my life. Later, I really liked the feel of some of Kenneth Anger's more occult material, and the careers of David Friedman, Kroger Babb and Herschell Gordon Lewis were a big inspiration.
click to enlarge
CL:Are there any movies that people might be surprised to learn you adore? For instance, do you weep through Dr. Zhivago or chortle through Home Alone or tap your feet through Grease?
Christ: Hmmm ... I did enjoy Fargo. Doesn't everyone want to give Frances McDormand a big hug?
CL:When you make a movie, is your prime objective to educate, entertain or offend?
Christ: Entertaining the audience is always my main objective. At every show, I'm hoping that people are going to laugh in the right places, and that they're enjoying the performances and the music and so on. If some folks are offended by what's on the screen, well, that's OK, too. I don't call myself Joe Christ to make people happy, except maybe for people who might share my sense of humor.
CL:What's the most money you've ever spent on a film?
Christ: I probably spent the most of my own money, about $3,500, on my first movie, Communion In Room 410.
CL:Along the same lines, which of your movies has proven to be the most profitable?
Christ: Sex Blood & Mutilation is still my biggest seller, more than 10 years after it came out. Now it's available from Dept. 13 Films as part of a three-movie DVD called "The Director Yelled Cut: Joe Christ Volume 2."
CL:Do your shows do well in every city in which they play? Has there ever been an instance where you misjudged a town's underground population and played to an empty club?
Christ: Oh, I've had my share of empty halls, believe me. Thankfully, that's pretty rare, but it does happen. There are certain places where I almost always draw a decent turnout, and those include Charlotte and Raleigh and cities like Dallas, Houston, New Orleans, Tulsa, Knoxville and a bunch of others in different parts of the US. There are some places where it's hit or miss -- sometimes a big crowd, sometimes a smallish turnout. All of it really depends on how well the screening was advertised and promoted ... there are "subversive" film fans everywhere.
CL:There's always speculation that people like Howard Stern and Ann Coulter aren't really as outrageous as they make themselves out to be -- that their inflammatory antics are part of a carefully manufactured image. So is Joe Christ the filmmaker the real Joe Christ? Do you make movies that tap into your deep-seated interests and beliefs, or do you make these types of films to get a rise out of people?
Christ: Joe Christ the actor plays characters who are often quite creepy in many ways. Joe Christ the filmmaker is me, but the filmmaker is not the characters who he plays. Perhaps some people might find me, the person, creepy in one way or another but never in the ways that my movie characters are creepy. The subject matter of my movies, whether it's self-destructive behavior or serial murder, are subjects of interest to me, and if people get upset when I present these kinds of subjects as entertainment, well, so be it.
Joe Christ's first feature-length film, That's Just Wrong!, will be screened at 7pm, 9pm and 11pm Friday, Feb. 3, at SK Net Café, 1425 Elizabeth Ave. Christ will be in attendance. Admission price is $5. For more info, call the venue at 704-334-1523.