Will 13 prove to be a lucky number for Hollywood? That's the staggering amount of sequels being released this summer season, a hefty amount of in-demand titles that could make this the most lucrative hot-weather period ever.
That baker's dozen includes Spider-Man 3, which unofficially kicked off the three-month relay race last weekend, as well as eagerly anticipated follow-ups featuring gnarly pirates, smelly ogres and boy wizards. And if that's not enough recycling for you, the season also brings at least one remake (Rob Zombie tackling Halloween), one Broadway adaptation (John Travolta in drag for Hairspray), and one TV spin-off (D'oh!).
More than 50 films are slated for release between this Friday and Aug. 31. In preparation, we're offering peeks at (in chronological order) the 10 most-promising movies, the 10 least promising and five that fall in the middle. In addition, we've compiled a checklist of 25 other titles that will be competing for your summer dollars. All opinions were formed after poring over the press material, checking out the trailers, and noting whether or not the cast includes Larry the Cable Guy.
10 Most Promising
click to enlarge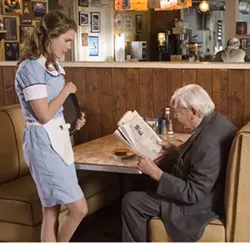 WAITRESS. I was a fan of Adrienne Shelly back when she was a noteworthy indie actress in the 1990s, so it was heartbreaking to hear that this wife and mother was murdered last year under deeply disturbing circumstances. So it's a shame that she wasn't around to enjoy the positive buzz that surrounded Waitress at this year's Sundance Film Festival. Shelly wrote, directed and appears in a supporting role in this comedy-drama about a pregnant waitress (Keri Russell) with a cruel husband (Jeremy Sisto), a sensitive doctor (Nathan Fillion) and a knack for making killer pies. All this and Andy Griffith, too! (May 25)
KNOCKED UP. The 40-Year-Old Virgin holds ground as the best stupid-smart/crude-sensitive comedy of the last few years, so yeah, I'm in line for the follow-up picture from writer-director Judd Apatow. Seth Rogen, the most slovenly of Steve Carell's pals in Virgin, plays a slacker whose one-night stand with a rising TV journalist (Grey's Anatomy's Katherine Heigl) results in her pregnancy. Expect both vulgarity and poignancy -- I know I am. (June 1)
click to enlarge
MR. BROOKS. Is this film jockeying to become the ultimate career revival flick? William Hurt, Kevin Costner and, to a lesser extent, Demi Moore each ruled a piece of Hollywood in the past but have long since seen their careers evaporate like water left in a boiling kettle too long. Mr. Brooks gathers them all up and thrusts them into a thriller about a businessman (Costner) whose alter ego (manifested as Hurt) orders him to kill, a nasty habit that catches the attention of a homicide detective (Moore). Hard to imagine a middle ground on this one: It will either be bloody good or bloody bad -- and either way suits me. (June 1)
RATATOUILLE. If the trailer is any indication, the latest from the Pixar factory looks cute but nothing more. Then again, I initially thought the same when seeing the previews for Toy Story ... and The Incredibles ... and Cars ... and, well, it's safe to say all three soared far beyond "cute." In other words, let's not bet against Pixar just yet, shall we? One positive: The director is Brad Bird, who gained notice for The Iron Giant and a Best Animated Feature Oscar for The Incredibles. One negative: It's a questionable decision to give a children's flick a moniker that requires an accompanying pronunciation (rat-a-too-ee) in the ads. (June 29)
click to enlarge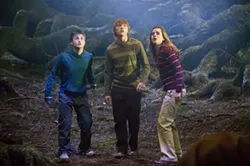 HARRY POTTER AND THE ORDER OF THE PHOENIX. I've already seen the one summer sequel that interested me (Spider-Man 3), but of the remaining glut, this one's my pick. The first four pictures in the franchise give me no reason to assume that this one will slack off significantly: Doubtless, the kids (Daniel Radcliffe, Emma Watson and Rupert Grint) will remain appealing, the Brit vets (among them Alan Rickman, Robbie Coltrane, Maggie Smith and series newcomers Helena Bonham Carter and Imelda Staunton) will lend conviction, and the series will continue to darken and deepen. (July 13)
THE SIMPSONS MOVIE. "I'll teach you to laugh at something that's funny!" Homer Simpson yells at son Bart as he attempts to strangle the lad. Homer better get used to the chortles, since it's hard to imagine the faithful not responding to the first big-screen outing of the doughnut-loving dork and his brood. Theatrical spin-offs of television series are always a risky proposition -- why pay for something you're basically used to watching for free? -- but a feature film Simpsons just seems natural ... if a tad late (the show's been on FOX since 1989). (July 27)
click to enlarge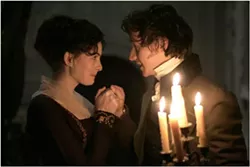 BECOMING JANE. I feel for Anne Hathaway, the fine young actress who watched all her co-stars grab the accolades for showier roles in both Brokeback Mountain and The Devil Wears Prada. So it's encouraging to hear that the early notices claim that this Yankee's just dandy as British author Jane Austen in a period romance loosely based on a romance in the young Jane's own life. (August 10)