Last week, at U2's triumphant Charlotte tour stop, the Irish quartet's lead singer and habitual Third World advocate Bono interspersed reggae icon Jimmy Cliff's "Many Rivers To Cross" into U2's cherished hit "I Still Haven't Found What I'm Looking For." Later during the concert, Bono also mimed being a political prisoner in the world's darker regions and overtly addressed postcolonial debt and the AIDS crisis in Africa. Sure, U2 came to prominence amidst a British post-punk scene that was heavily influenced by the popular precursor to Jamaican roots reggae -- ska -- and that featured sociopolitical movements such as Rock Against Racism. I would argue that Bono's demeanor and gestures were directly shaped by Cliff's contemporary rival: the most enduring of Third World superstars, Robert Nesta Marley (1945-1981). Indeed, one of this critic's favorite Bono moments was his ad-libbed, passionate induction of Marley into the Rock and Roll Hall of Fame in the 1990s. The rocker wasn't merely high on (visible) Red Stripe beer and (invisible) herb but also on the possibilities of universal oneness that Bob Marley continues to represent, whether in the shallow form of Jamaica tourism TV spots or the deeper import of his myriad children's music.
click to enlarge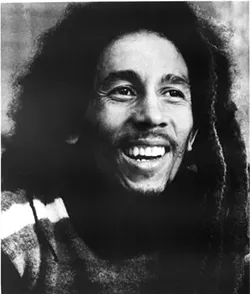 In Marley's 60th birthday year, it's worth examining his legacy -- as collected on the new reissue Africa Unite: The Singles Collection (Island/Tuff Gong/UMe) -- and the state of world music dedicated to struggle. Aside from 17 vintage tracks, the disc includes previously unreleased demo "Slogans" and "Stand Up Jamrock," an Ashley Beedle mash-up of Bob's "Get Up, Stand Up" and the '05 monster of youngest son Damian "Jr. Gong" Marley, "Welcome To Jamrock."
It's fitting that this Marley landmark coincides with a bold move by one of the most controversial artists of the last quarter-century: Bono's fellow rebellious countrywoman Sinéad O'Connor is currently touring the States behind her new reggae covers album, Throw Down Your Arms (Rocket Science), recorded at Marley's Tuff Gong studios in Kingston. Catholic priestess O'Connor -- a "Crazy Baldhead" no more but as much of a testy maverick as ever -- is accompanied on the album by the rhythm section of producer-player legends Sly & Robbie (see the Rolling Stones' "Undercover of the Night").
O'Connor's CD is garnering mixed reviews, but it's difficult to know whether the negative criticism results from the disc's artistic merit or the lingering backlash against the singer for ripping up a picture of the late Pope on Saturday Night Live (in 1992) and any perceived anti-American sentiment. At the moment that earned O'Connor her seemingly eternal Yank disfavor, she was singing an angry, a cappella version of Marley's "War." O'Connor reprises this on her latest, and stirring footage of Marley performing the incendiary song appears on the new Island DVD Live At The Rainbow, with accompaniment by his band consisting of the Wailers and their backup singers, the I-Threes.
Other renowned artists have emulated Marley's public and private personae, both white (Hasidic reggae star Matisyahu, Black Crowes frontman Chris Robinson, U2) and black (Burning Spear, Bad Brains, the Fugees' Wyclef Jean, part-Bahamian rocker Lenny Kravitz), but none has paid such a heavy toll for adhering to the spirit and letter of the Jamaican culture hero's worldview as O'Connor.
click to enlarge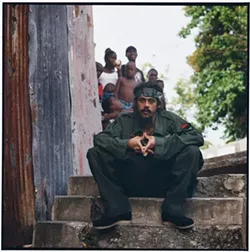 Not even Marley's numerous musician offspring have been so negatively affected by following the Tuff Gong's path -- including aforementioned Damian "Jr. Gong," who's toured with U2 this fall and had the year's most important and pervasive reggae hit in "Welcome To Jamrock." One could scarcely go anywhere this summer without hearing the tune's central Ini Kamoze sample: "Out in the street, they call it murrrdah!"
Still, the conscious delights of Damian Jr. Gong's Welcome To Jamrock (Universal) are marred by some concessions to today's urban-crossover marketplace, echoing his father's aesthetic dilemmas. Existing between Sean Paul's dancehall pop, Rihanna's "Pon De Replay" (the year's top "reggae" hit) and the troubling homophobia of hardcore dancehall stars Capleton and Sizzla (both of whom played Charlotte this fall), Jamrock the album was refreshing for its antiviolence, quasi-womanist messages. Aesthetically, its focus on one-drop beats and a general ambience originally fostered by the elder Marley's legendary producer Lee "Scratch" Perry signals a return to roots-reggae tradition.
On the other hand, reality TV star Bobby Brown guests on the cheesy new jack swinger "Beautiful" -- a far cry from the early Wailers' channeling of Curtis Mayfield. At least that's offset by Jr. Gong's fire-and-brimstone on his own "Confrontation" and "Move!" which rides on the elder Marley's "Exodus." I and I hope Damian Marley continues to forge his own path toward a more impeccable album and sophisticated agit-prop that will benefit his people across the African diaspora, whether they adhere to belief in the Lion of Judah or not. Ultimate verdict on Africa Unite (père) and Welcome To Jamrock (fils): Wave yo' lighters aloft, mo' fiyah!
Bob Marley's Africa Unite, Live At The Rainbow and Damian "Jr. Gong" Marley's Welcome To Jamrock are out now. Jr. Gong's and Sinéad O'Connor's tours resume in early 2006.