So you've stopped microwaving your food in plastic. You have a chlorine filter on your showerhead, you avoid sneakers made in sweatshops and you take cloth bags with you to the market for your organic produce.
But when it comes to the nightstand drawer, often all those noble and self-protective thoughts go out the window. There you've got petroleum-laden, chemical-leaking implements of pleasure made god-knows-where, piled on top of a mound of dead batteries and some distinctly leathery items. Well, the good news is, that drawer doesn't have to be your one dirty little secret. At least not in such unfun ways.
On the health front, jelly dildos -- the most common, and cheapest -- are a nightmare. They're absorbent, so they're hard to clean well, and they leak toxic phthalates, which have been banned in diapers and children's toys. I'll spare you the details.
click to enlarge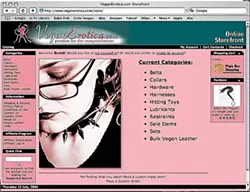 Luckily for your bloodstream, if not for your pocketbook, most higher-end sex-toy retailers now carry silicone toys, which dispatch with the above problems in a single, brightly colored thrust. High-end props are also made from stainless steel, wood and glass (though some people question the wisdom of that latter on other grounds).
Nontoxic and even homeopathic lubes have also become widespread, allowing for a tiny, slippery dip in your petroleum consumption and, probably more noticeably, a less irritating experience for your own slippery surfaces.
If you don't eat meat or wear leather, jonesing for a good harness or collar for your sweetie can be difficult. After all, it's not called the "leather community" because of people's tough skins. But if PETA can stage so many nearly naked protests, it's clear that vegans are not afraid of a little kink. And indeed, look no farther than www.veganerotica.com or www.vegsexshop.com. Rubber and pleather galore!
Concerned about your battery hog of a vibrator? At www.blowfish.com under "alternative power vibrators," there's a vibrator that charges in the sun! The folks at Blowfish say they got at least an hour of high-vibration fun from seven hours of solar power. They caution that this is a solar-charging vibe, not a solar-powered vibe -- you can't use it while it's charging. But that might be just as well, given the exposure laws in your neighborhood.
There's just something terribly unsexy about the idea of sex-toy sweatshops in impoverished nations. The folks at Coco de Mer (www.cocodemerusa.com) and Womyns' Ware (www.womynsware.com) agree, and they get their toys from either local cottage industries and artisans (that's local to them, being the United Kingdom and Vancouver, British Columbia, respectively) or through international fair-trade arrangements. At Coco de Mer, this philosophy comes draped in a sensuous, gothic sensibility and a good deal of lingerie. At Womyns' Ware, you can get dildos shaped like Lilith and whales, and all the info you ever didn't want to know about why they don't sell what they don't sell. Tell me you're surprised.
The folks at Bass Ass Paddles (www.tirepaddle.com) may just have hit the trifecta, though: sexy (at least for those into serious spanking), sustainable and with a sense of humor. Yes, they really do make paddles out of recycled tire treads. Somehow, that says satisfying reuse in a way that shredding and burning tires never will. Forget naughty schoolgirl -- you know you and your raunchy overworked conscience want to play mechanic.
This story originally appeared in Metroland, an alternative newsweekly in Albany, NY.
Summer Loving