Lofty Goals
DJ Larmarrous, straight outta the ATL, spins records at last Sunday's "Grown and Sexy is Dead" party at Loft 1523.
The Art of Ass Shaking
click to enlarge
Charlotte-based DJ That Guy Smitty pumps up the crowd at the Plaza Central Art Crawl, which went down on Oct. 6. Wanna hear Smitty live? Check out Pop Life on Oct. 17.
Drink, Drink and Be Merry
Wine lovers in attendance at last Saturday's Great Grapes event (at SouthPark's Symphony Park) clamor for the nectar from the vine.
Pose for the Cause
Models representing the Lotus brand of boutiques strut their stuff at the Breakfast Club. The ladies hit the catwalk Sat., Oct. 6 as part of an effort to raise funds for Charlotte's Avon Walk for Breast Cancer (taking place Oct. 20 and 21).
Give Him a Hand
click to enlarge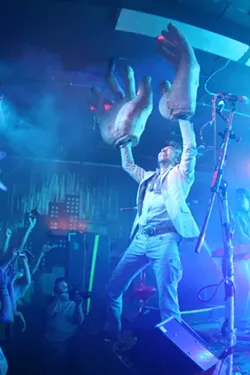 You know what they say about guys with big hands, right? They wear big gloves. Flaming Lips singer Wayne Coyne does his best with that theory at the band's Oct. 3 concert at Amos' Southend. Turn to Vibes for a review of the concert and head over to qcvibes.com for more photos and a setlist.