Joe Wind had seen racial discrimination at nightclubs before, he thought. Groups of black guys would approach a club door, only to be told they weren't dressed right. Sometimes, he chalked it up to racism. But it had never happened to him. So he never felt called to address it.
But then last November he and a group of friends trekked to The Forum, the trendy spot at Sixth and College streets that opened in September to much fanfare. The guys, all Asians, were barred from entry. The reason? Bouncers wouldn't say initially, according to Wind. He couldn't fathom why. Finally, he figured, they must have been left standing out in the autumn air because of their race. "I knew there was no other answer for it," says Wind, a credit manager in the finance industry.
click to enlarge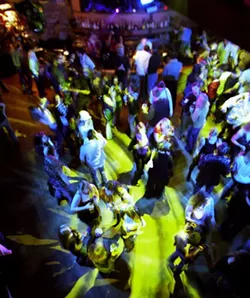 That's just one experience with race in Charlotte nightlife. Then there's Tisha Thompson, a 23-year-old Charlotte native who used to work uptown. She believes blacks are harassed by police and frequently receive poor service at nightspots. "You come downtown, you feel like you're out of place," says Thompson, walking with friends down Tryon Street on a recent Saturday. "Anywhere else in Charlotte, you can fit in."
And here's still another perspective on racial dynamics uptown. Frank King, general manager of the nightclub Menage, has worked uptown bars and clubs for years. He says a club can't stay in business and exclude entire races. "There's really no racism at the clubs in Charlotte. That's just the truth," King says.
How can people who spend so much time in one place arrive at such different conclusions? And be so certain they're right -- and others are wrong?
The same month that Wind says he was turned away from The Forum, an allegation against Menage, the popular uptown dance club, brought to boil a long-simmering debate about racial dynamics uptown. For years, many people of color had been expressing concern that uptown -- a place whites once abandoned -- had grown inhospitable to minorities. The Menage allegation, to some, was just another piece of the puzzle, a manifestation of what seemed patently obvious.
What exactly happened at Menage is unclear, but according to an e-mail written by Angie Drakeford, a co-promoter of the Ultimate Aggie Affair slated to be held at the club last Nov. 19, she and co-promoter Willie Ramey canceled the party as patrons were lining up at the door because of what she vaguely refers to as negative comments made by club management and an unwelcoming atmosphere. But Menage owner, Charlotte attorney Stefan Latorre, has countered in another e-mail that he cancelled the party because what he thought was a private party was in fact an afterparty with an unauthorized $20 cover charge (normal Saturday cover is $10 for men, free for women).
Either way, a lot of unhappy African-American clubgoers were turned away from an event they were eagerly anticipating, further fueling charges of racism on the uptown club scene.
Drakeford declined to discuss the incident, saying attorneys were involved. Latorre has denied the decision was race-related and emphasized his commitment to diversity -- a commitment one of his managers, Ty Ussery, reiterated just last week in a Charlotte Observer guest editorial. Some people have questioned that commitment, though, especially some hip-hop fans still angry over the dismissal last spring of a hip-hop DJ on the club's lower level, which had long been devoted to hip-hop and is now mostly used for private parties.
After the Ultimate Aggie Affair was cancelled, radio DJs on hip-hop station Power 98 began to rail against racism uptown, and some people called for a boycott of Menage. E-mails, such as one recounting Wind's experience, circulated among hundreds of people, and the Charlotte-Mecklenburg Human Relations Commission began an investigation.
The charges stung. For some Charlotteans, the Menage dispute with promoters confirmed long-held beliefs about the Queen City's nightlife: After dark, conventional wisdom goes, few clubgoers cross the color line. Walk down Fifth or Tryon Street on Saturday night, and you'll likely see a color palette that offers strikingly few hues. You'd never know, judging from uptown Charlotte's nightlife, that blacks, Hispanics and Asians make up more than 40 percent of the city.
For those bred in the South, it might be taken as an article of faith that such division is as seemingly intractable as whites and blacks sitting in different sides of a high-school cafeteria. But for non-natives -- whom Charlotte is attracting in increasing numbers -- this sort of division isn't the norm. Cy Gropper, owner of Hoops & Dreams, a sports bar at Tryon and Fifth streets, says his former New Jersey home didn't have the sort of self-segregation seen in Charlotte on a Saturday night. "You don't find a black club or a white club there," Gropper says.