Autumn is in the air. The aroma of SUVs mingles with the bratwurst at spontaneous tailgater campsites. Thundering hallelujahs burst forth from tens of thousands of Panthermaniacs as Stevie Smith and Keyshawn haul in touchdown tosses. The eternal hope of Super Bowl glory!
Think that's the only silver-and-blue action in town? If so, you need to think outside the BofA Stadium box lunch. Charlotte's fall arts season is ready to dazzle with a rainbow of autumn color. New faces and plenty of excitement are headed to new spaces around town with an extra sparkle of silver and blue.
click to enlarge
A harbinger of blues to come arrives on Labor Day, the chronological Rubicon for launching the new arts season. On Carowinds Boulevard, the crossroads of the Carolinas, NarroWay Productions -- the self-proclaimed "Broadway of Christian Entertainment" -- is going bluegrass to celebrate the holiday.
Heathens might more readily say amen to what Bobcats Arena holds in store for Nov. 17. Emboldened by the success of Cirque du Soleil's Delirium this past May, the arena is opening their snazzy portals to Blue Man Group's How to Be a Megastar Tour 2.0. Now is that the essence of big blue or what?
A kinkier shade of blue will be the province of Charlotte's leading adult theater company, Actor's Theatre of Charlotte. Launching their season at 650 E. Stonewall St. with I Am My Own Wife on Sept. 6 -- written by Doug Wright, who gave us De Sade in Quills -- ATC goes directly to the jugular of blueness with Paula Vogel's The Oldest Profession, opening on Nov. 8.
Between new shows this season, Actor's will shuttle in a trio of the company's favorite oldies, beginning with The Santaland Diaries on Dec. 7. More significantly, Actor's Theatre is establishing itself as the new base of operations for smaller, emerging and hibernating companies. They just finished hosting the Epic Arts Rep's premiere of The Expanding Sky and plan to roll out the welcome mat for Pi Productions on Oct. 8, when Ann Marie Oliva's The Eyes of God premieres.
If all goes well, Off-Tryon Theatre Company will also be resurrected -- maybe next spring? -- in a new, smaller studio space at 650 East Blvd. that has been urban legend until now.
Payback, says Chip Decker, the multitasking artistic director at ATC.
"When we started at Spirit Square," Decker reminisces, "we always thought that it was kind of an incubator. We always wanted the ability to give that back. If it were an income-motivated thing, no one would be able to afford it! We'll keep Pi for as long as they want, and then we'll keep Epic Arts for as long as Stan [Peal] and Laura [Depta] decide to keep Epic Arts moving forward."
We caught up with Decker long-distance as he was scouting Urinetown for a possible future production. He thinks Charlotte is loosening up where its infamous morals constipation is concerned. So he's confident -- but wary.
"I still think there's an undertone of rumblings there," he observes. "They're not as prevalent as they once were, and I think the city -- 90 percent of it -- has moved on, wants to move on, and doesn't want to hear about it anymore. They're done with it, they don't want to be bothered with it."
Those who cherrypick their theater fare rather than putting all their eggs in one subscription will find they can take in a rich autumn harvest. Children's Theatre opens their second year at ImaginOn, firing off their heavy guns with The Magician's Nephew on Oct. 6. Everybody who saw last season's The Lion, the Witch, and the Wardrobe won't want to miss this C.S. Lewis prequel.
Meanwhile, CPCC Theatre will begin their second year at Halton Theater, our BOC pick for the city's best music hall. They bring Rogers & Hart: A Celebration within the stately rotunda on Sept. 29, and continue to make dramatic use of the hall's musical proclivities on Nov. 10 with Peter Shaffer's Amadeus.
You'll find much more Halton activity this year as CP brings in more touring attractions -- and other local organizations pick up on this venue's irresistible attractions. Among the most intriguing stars in the Halton Theater Presents fall lineup are The Ahn Trio (Sept. 14), two nights of Novello Festival (Oct. 9-10), the Cackalacky Film Festival (Oct. 17), and Nnenna Freelon (Dec. 9).
Theatre Charlotte opens with its customary glitz on Sept. 14 with A Chorus Line, but on Oct. 12, they favor us with something unexpected -- and their own special touch of autumn color. Yellowman launches the new Stage 501 series at the Queens Road barn, edgy non-subscription plays presented in the raw on a new thrust stage in the Theatre Charlotte lobby.
Did we forget about the silver? Hell, no. Charlotte Symphony Orchestra celebrates their silver anniversary (multiplied by three) with a special Return of the Maestros gala celebration on Nov. 4. Five former CSO maestros return to join current maestro Christof Perick, a living history of the ensemble stretching back to the Ovens Era, circa 1958, all six taking turns at the podium.
We tried to gather some intelligence on the 75th anniversary fete, but even resident conductor Alan Yamamoto is clueless.
"It's like the formula for Coca-Cola," he confides. "I mean, nobody has breathed a word!"
Alas, not being spoken to is Yamamoto's special gift at CSO. It is Yamamoto, you see, who conducts all of the delightful Saturday morning LolliPops Concerts for the kiddies -- beginning this season with "Music Noise Silence" on Sept. 9 -- playing straight man to a cavalcade of guest mimes.
click to enlarge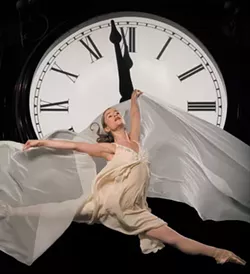 "The mimes drive me a little bit nuts," Yam admits, "because they don't talk. That means I have to talk, and I hate the sound of my voice. This is not the stuff I went to Michigan and Colorado and Berkeley to learn. For a shy Japanese-American boy, turning around and talking to the audience and having to mime and act and sing 'The Impossible Dream' like a drunken Italian tenor -- it brings you out of your shell! I'm just damn glad none of my childhood friends live in Charlotte."
It pays to get to know Yamamoto, especially if you want to experience the more adventurous fare that Charlotte's flagship performing arts group has to offer. In the Classics series, Yamamoto brings us Modern Masters on Dec. 1. He offers a world premiere of Jennifer Stasick's "Crossing Rivers V" during the Russkies and Yanks concert on Nov. 18, as Neighborhood Concerts travels to Davidson College. And on Oct. 13, Neighborhood Concerts makes its debut at Halton Theater -- with a festive slate called Oktoberfest!
Other fall musical highlights include Charlotte Philharmonic's Hello, Dolly! (Oct. 21), Opera Carolina's Madama Butterfly (Oct. 26), Carolinas Concert Association's Orquestra de Sao Paulo (Nov. 6) and -- right around the corner -- Chamber Music @ St. Pete's 10th Anniversary Concert (Sept. 5).
Do you wanna dance? NC Dance Theatre is among the best anywhere, offering Jean-Pierre Bonnefoux's Cinderella (Sept. 28), their reliably wonderful suite of Innovative Works (Nov. 2), and -- stop the fucking presses! -- a brand new version of The Nutcracker (Dec. 14).
Enjoy.
Fall Preview