While tattoos are becoming more accepted thanks to a mainstream showcase on celebrities and sports stars, the idea of permanent body art is still a relatively new phenomenon in the South (especially here in Banktown, U.S.A.). Sure, people from all walks of life may be getting "inked," but many "tatts" aren't exactly being showcased in public. And while stereotypes are tagged to those marked with tattoos, the stories behind them are often unique and usually personal. From memorial tattoos of lost loved ones to tributes to careers and bands, the subject matter of inked artwork has endless possibilites. Here are a few of the tales behind some of the Queen City's tattoos:
Name: David Scott
Occupation: Warehouse manager
Residence: Kannapolis
Tattoo: Dragon and lotus flower
Location on body: Side torso
Tattoo shop/artist: Anything's Possible, Matt Poulk
How long it took: 30-40 hours
The story: "I had just gotten in a really bad car accident. I had been thinking about getting the dragon and lotus and a koi done -- in the whole mythology thing, the koi makes it to the top of the stream and becomes a dragon. There's also a lot of meaning in the dragon in different cultures. I really just wanted a beautiful piece of artwork and to have that with me forever. I had gotten smaller tattoos, but I decided the rest of the work that I'm going to have done is going to be big, it's going to be beautiful and it's going to be done right. I just wanted something that nobody else had seen. The first thing I had done was the lotus. The lotus has a lot of symbolism in Buddhism. Eventually, I'll get a koi done below it. I want to get a mirror image done on the other side, but, like, a devil or something that's opposite of the lotus and koi. If it means something to you and it's something beautiful, that's what's important. I really stress good artwork and finding an artist that you connect with. That person is going to put you through an insane amount of pain, and you're going to share a lot of time together. To me, it represents strength and getting through a tough time."
click to enlarge
Name: Lindsay Reagan
Occupation: Waitress, Alley Cat
Residence: Kannapolis
Tattoo: Phoenix
Location on body: Back
Tattoo shop/artist: Ace Custom Tattoo, Matt "Skinny" Bagwell
How long it took: 3 hours done, 15-20 left
The story: "I get tattoos whenever I feel like I'm moving out of one phase in my life into a new phase. I want to remind myself of things that were and things that will be. I like having a timeline of beautiful art that shows where you've been and where you're going. I got this as kind of a rebirth of going from a darker phase in my life to a lighter phase. I started in February, but I haven't had time -- I was working two jobs. The next sitting will probably be the second week of August. My first tattoo took me two years to decide, but the one on my back took around three months. I want to have it done already. I hope to have it done by Christmas."
click to enlarge
Name: Alysse Stewart
Occupation: Radio personality, 101.9 FM (WBAV)
Residence: Charlotte
Tattoo: Vine, roses, cross
Location on body: Shoulder
Tattoo shop/artist: Ink Link Tattoos, Ryan
How long it took: Two sessions; 4-5 hours total
The story: "It's addictive to go back and get it redefined. Originally, it was just the vine with a flower and a rose. My idea was that you can find beauty where you least expect it. When I moved to Charlotte, I made the concept larger and added the cross as a sign of spirituality. [Ryan] filled in some of the space that was there with extra vines. Back in the early '90s, I was dating a guy who sent me an ugly plant that looked like a vine and they had stuck a rose in with it. I thought it would make a good tattoo. When Ryan saw it, he wasn't impressed and thought it could use some work. I really want the whole area covered in. I'm hoping it will be more blocked off like Lenny Kravitz, so I may go and get it finished off."
click to enlarge
Name: Kara Batista
Occupation: Assistant general manager, Ballantyne Village Theatre
Residence: Charlotte
Tattoo: The Clash tribute -- album cover, silhouette of Joe Strummer
Location on body: Upper arm; outside and inside
Tattoo shop/artist: Fu's Tattoos, Matt Terry
How long it took: Outside: 4-5 hours; inside: 2-3 hours
click to enlarge
The story: "The dancing people are from the London Calling 7-inch. I have a silhouette of Joe Strummer on the inside of my arm. I got the inside done about two years ago. I've always been a huge Clash and Joe Strummer fan. I've identified with every aspect of their music; political thought and everything. I started with the Joe and wanted to get something overall for The Clash on the other side of my arm, but didn't want anything too masculine. I saw the 7-inch with the dancing people and thought that would be cool. Then I got the banner below them and then the red lines. I wanted the quote under Joe Strummer to kind of bring it down on my arm and, since it's a silhouette, it's kind of hard to tell who it is. It's from an album that most people aren't that familiar with [The quote, "I wasn't born so much as I fell out" is from the song "Lost in the Supermarket."] The red lines pulled it all together. There's not really another band that I'd feel comfortable having on me forever."
click to enlarge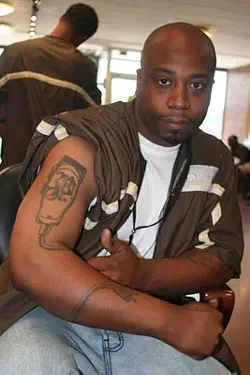 Name: Paris Carmichael
Occupation: Barber, Reflections Barber & Beauty
Residence: Charlotte
Tattoo: Clippers, straight razor
Location on body: Arm, hand
Tattoo shop/artist: New York
How long it took: Clippers: 2 hours; Razor: 1 hour
click to enlarge
The story: "The reason why I got it is because it's my livelihood, and I like to do it. I thought I might as well put it on my arm. I got it when I was 17 years old. I thought about it for a while. I always wanted a tattoo, and I knew if I got something it would have to be what I like to do. Whenever you get a tattoo, it's supposed to represent you. I got it all done at once, including the initial. I took the clippers that I work with and told him, 'Gimme this,' and he did it. I added the straight razor once I became a master barber. I got it about five years ago. Once I reached that point in my life, I knew I was going to get it as a reward to myself."
click to enlarge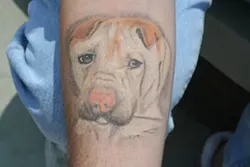 Name: Mike Sigmon
Occupation: Purchasing Agent
Residence: Belmont
Tattoo: Sharpei, Charlie
Location on body: Forearm
Tattoo shop/artist: Nikki's Tattoo Studio, Nikki Thompson
How long it took: 2.5-3 hours
The story: "I never really met a dog like Charlie before. I met him about eight years ago. He was just a special, different dog. He was my best friend, and he got sick about a year ago. They couldn't figure out what was wrong with him. He just kept wasting away, and we eventually had to put him to sleep back in April. I just wanted to have something to remember him by and memorialize him. I thought this would be a good way to do that and keep him in my memory. I thought about it for three or four weeks after he passed away. I wanted to put it somewhere that I could look down and see him. When I brought Nikki pictures, she got tears in her eyes, so I knew she'd do a great job. I was grateful to have someone that cared so much to do the tattoo, and it turned out better than I could have ever imagined. It looks just like him."