A reader named Melissa, who moved to Charlotte about a year ago, e-mailed us recently about something that puzzled her: "What's the difference between the City Council and the County Commission? Why isn't there just one local group of lawmakers?" I wrote back, explaining that in the past, various attempts have been made to unify county and city government, but politicians' egos and turfs were deemed more important than serving the public more efficiently.
click to enlarge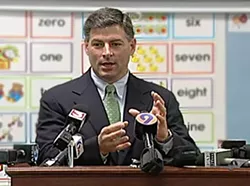 Later, I thought about Melissa's question and realized there could be God-knows-how-many readers wandering around, confused about things here in good ol' 21st century Charlotte, USA. I vowed then and there to help clarify things. So, here's a list of things many people seem to be confused about, along with explanations of "What's the Difference?" I hope this helps.
• City Manager / Mayor: In Charlotte, the City Manager does all the real work of getting things done -- even things City Council has specifically told her not to do. The mayor, on the other hand, gets to schmooze with millionaires, cut ribbons, fly around the country and take credit for stuff he had little to do with.
click to enlarge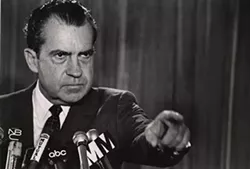 • Jim Black / Jim White / Jim Brown / Jim Green: So many colors, so few first names to go with them. I'll straighten it out for you. Jim Black, of Matthews, is the former N.C. Speaker of the House who resigned his seat and pled guilty last week to public corruption. Jim White is a singer/songwriter from Florida who is featured in a film called Searching For the Wrong-Eyed Jesus. Jim Brown played for the Cleveland Browns and is one of the greatest running backs in the history of football. Jim Green is a South African company that manufactures hiking boots.
• Peter Gorman / Richard Nixon: Any confusion is understandable, as both men have been known to spend two hours a day shaving but still wound up with extraordinary five o'clock shadow. The difference, though, is that Gorman is the current Charlotte Mecklenburg Schools Superintendent, while Nixon is a former president of the United States, presently burning in hell.
• The Army / The Crips: There's so little support for the war in Iraq that, even after offering larger bonuses and lowering education, weight and age standards, the Army has had to increase the number of recruits with criminal backgrounds by 65 percent. Having criminals in the military is bad for the Army and the country, but it's a windfall for the magnetic ribbon industry, which recently unveiled its new "Support the Felons" line of products, featuring various gang symbols.
• Light Rail / Trolley: "Light rail" is the name given to sleek, modern versions of what used to be called "streetcars." Locally, it's a government project that will allow taxpayers to avoid South Boulevard and I-77 traffic while lining condo builders' pockets. The "Trolley," currently on hold until "light rail" is finished, is a clunky, old streetcar that somehow became a tourist attraction. Obviously, some people need to get out a little more.
• Spoleto / Spumoni: Spoleto Festival USA, one of the world's major arts festivals, takes place in late spring in Charleston, S.C., and is an ideal place to see great performances in a casual, cultured setting. The festival was launched by the late Gian Carlo Menotti, who also founded a festival in Spoleto, Italy. Spumoni is a three-flavored (usually cherry, chocolate and pistachio) ice cream, also originally from Italy, thus explaining the rampant confusion.
• Davidson / North Davidson / NoDa / Soda: Davidson is a town north of Charlotte, and is the home of Davidson College and incredibly high realty prices. North Davidson is a catch-all name for a part of Charlotte also known as Historic North Charlotte or NoDa -- not to be confused with Soda, which is a Northern term for soft drinks.
• Universal Health Care / Insurance Racket: The former is how every civilized country on earth except the United States handles its citizens' medical problems. The latter is what we have instead.
• Wal-Mart / Dick Cheney / Satan: This is a trick question, as all three are big-time agents of evil.
* Howard Stern / Howard K. Stern / Howard K. Smith: Howard Stern is an emotionally arrested deejay on Sirius radio, while Howard K. Stern is Anna Nicole Smith's last attorney and claims to be the father of the late celebrity's baby. Both men are scum. Howard K. Smith, now deceased, was a journalist and newscaster who moderated the first Kennedy-Nixon debate. These men are also frequently confused with Howard Hughes, Howie Mandel and Moe Howard.