Do your ears perk up when you hear "cake"? Mine do. Well guys, have I've got a cake for you.
It looks so sophisticated, this cake's got me feeling like Miss Fancy Pants baker girl. It's called the Perfect Party Cake, courtesy of baker extraordinaire Dorie Greenspan and her book Baking: From My Home to Yours.
Four lemony layers of white cake are married together with raspberry filling, lemon hot meringue buttercream, and finished with a feathering of shredded coconut. Nothing makes my mouth happier than lemon and raspberry cake combos. The cake is "perfect" because the crumb is delicate, the flavors are fresh and bright, and the presentation of the cake is beautiful. The cake also lends itself to many variations with alternate frostings and fillings.
This was my first time making a hot meringue buttercream, and I'm a convert. It was so thick and silky smooth – zero grittiness from the sugar because egg whites and sugar are melted over a double broiler before getting whipped into an oblivion. Yes, it did require three sticks of butter, but it's amazing, so I'm willing to overlook that. Plus, who wants a cake that is skimpy on the frosting?
At first I was a bit concerned because the butter, egg, sugar mixture was a big liquidy mess. There was no possible way it'd come together and thicken ... or so I thought ... but after 6 minutes of whipping, it started getting shiny and thick. Almost mayo-esque. It's ok if your frosting comes apart mid-whipping. Just keep on going and it'll pull together. (Tip: You might have to drape a kitchen towel over the stand mixer to keep the frosting from flying out and spackleing your kitchen.)
Once baked, the two cakes had to be halved to make four layers, and as you can see, one of my layers is a bit thicker than the others. Oopsies. Anyway, moving on ... here's how to assemble the cake: Layer of cake, layer of raspberry, layer of buttercream, repeat another two times. Layer last piece of cake on top, smother entire cake with buttercream, press shredded coconut all over cake. Easy! Now just cut, eat, repeat.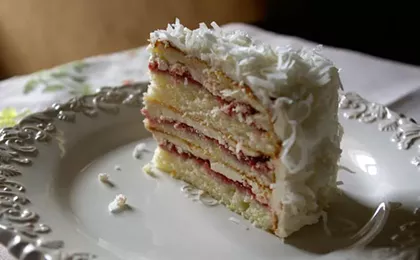 3 slides