With no chrome, jukebox, antique cars, or milkshakes in sight, Queen City Diner is not your typical diner. Located the spot that used to be Fiji Sushi on 5th Street in Uptown, it still has some of the same decor and furniture.
The restaurant opened its doors in December 2010 and has had them open ever since. The 24/7 restaurant caters to late-night party people looking for some grub.
When I stopped by this past weekend (during the afternoon), fellow customers were sparse. The food was decent and pretty much what you'd expect from a place catering to people seeking late night food. On the menu they have breakfast items like pancakes and omlettes, as well sandwiches and burgers.
The club sandwich (ham, turkey, roast beef, subbed with bacon since they were out of roast beef) I ordered was huge and came with a big serving of nicely fried Cajun-seasoned crinkle fries. The bread used for the club was grilled and tasted heavily of butter (not a bad thing, I guess). Perhaps due to a big Friday night crowd the night before, a few items like the roast beef and sweet potato fries out of stock.
The food was ok, nothing to rave about, but nothing to complain about either. I suppose if I had eaten the same meal after a long night of partying on Friday instead of on a sober Saturday afternoon, I'd probably be raving about how good the food is.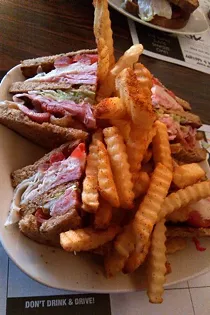 8 slides
Queen City Diner
116 W. Fifth St.
Charlotte, NC 28202