Just received this notice from the good folks at Chipotle:
Chipotle Mexican Grill (NYSE: CMG) will raise up to $1 million to benefit family farmers through its annual "Boorito" Halloween fundraiser. Customers visiting any Chipotle restaurant in the US, Canada and the UK on Monday, October 31st from 6 p.m. to close dressed in a costume inspired by the family farm will be treated to a burrito, order of tacos, salad, or burrito bowl for only $2, and Chipotle will donate proceeds (up to $1 million) to Farm Aid and the Chipotle Cultivate Foundation.

"Boorito has become an eagerly awaited tradition for many of our customers," said Steve Ells, founder, chairman and co-CEO of Chipotle. "We are hoping to use the excitement surrounding this annual event to spark more conversation of the struggles facing so many of America's family farms, and to raise money to help address these issues."

Boorito 2011 also features an online costume contest. To participate, customers dressed in a costume inspired by the family farm — such as humanely raised animals, family farmers, or locally grown veggies — must take a photo of themselves visiting a Chipotle restaurant on Halloween, and upload it online at Chipotle.com/Boorito or by texting "COSTUME" to 888222. One grand prize winner will receive $2,500, and five runners up will receive $1,000 each. Twenty honorable mention winners will receive a burrito party for 10 guests.
Now, you have to admit, dressing up in a "family farm" inspired costume is not all that hard. Need some ideas? Here are a few off the top of my head.
A carrot: Orange shirt and orange pants, with a green hat.
Farmer: Overalls — or, as my farmer of a grandfather used to call them, coveralls — and carry a shovel or hoe.
A potato: Cut the top and holes in the side of a large paperbag and wear it over your torso.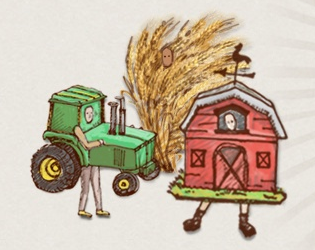 See? Not hard. Not only do you get a burrito, order of tacos, salad, or burrito bowl for $2, but you're helping out a worthy charity.
There are four Chipotle locations in the Charlotte area; check and see which one is closest to you here.