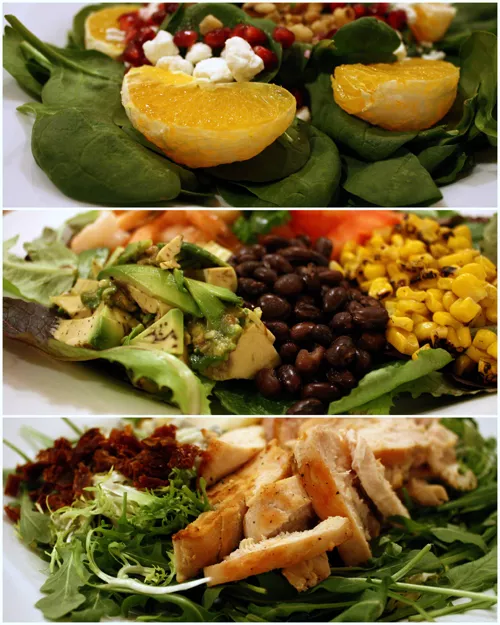 As January comes to a close and February is on the horizon, some of you might be feeling a little defeated in your New Year's resolution to eat healthy. Let's face it. A lot of people fail at their resolutions to eat healthier, not because they don't want to succeed, but because they set rules that are too restrictive.
I'm all about easy, delicious, and healthy guidelines. Not rules.
And here's a guideline you can easily keep: eat a salad a day. But not just any ol' salad. Eat a delicious, healthy, beautiful salad, full of creative and fresh ingredients — salads that use whole and filling foods.
These three salads will leave you feeling good about your food choices, without neglecting your tastebuds.

ORANGE AND POMEGRANATE SALAD (serves 1)
3 cups loosely packed baby spinach
1/2 navel orange, peeled and separated into segments
1/4 cup pomegranate arils
1 oz. goat cheese 2 Tbsp. walnut pieces
Place spinach on a plate. Layer oranges, pomegranate arils, cheese, and walnut pieces. Drizzle with 2 tablespoons of the orange balsamic vinaigrette dressing (recipe follows).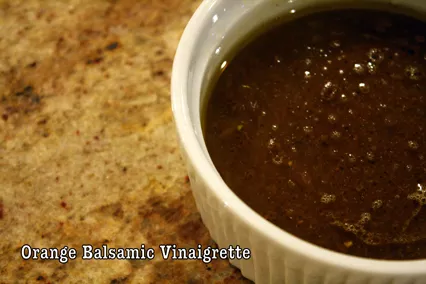 Orange Balsamic Vinaigrette
2 Tablespoons extra virgin olive oil
2 Tablespoons balsamic vinaigrette
1 Tablespoon dijon mustard
juice of 1/2 navel orange (about 1/3 cup)
1/4 teaspoon salt
Combine all ingredients in a small bowl and whisk well to combine.