Why do we consume certain things at certain holidays? Like turkey on Thanksgiving, cookies at Christmas, beer on St. Patty's Day, watermelon on July 4th ...
Growing up at my house, chicken, roast, steak, and pork chops were everyday entrees, but not ham. Oh no. Ham was saved for Christmas and Easter.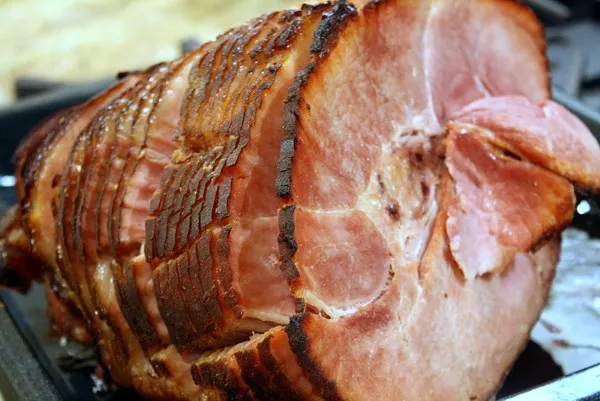 A quick search on Google and I learned that this became an American tradition because pigs are typically slaughtered in the fall and cured pork is typically was ready for eating around Easter. So serving ham is a seasonal convenience. I also learned that serving ham on Easter is a Northern European tradition, while the rest of Europe typically eats lamb. Even with our modern conveniences of being able to eat what we want, when we want it, we continue to observe this tradition of eating ham during special times of the year.
Now, I'm going to let you in on a little secret: I've never cooked a ham before.
I chose to take on the task of cooking a ham so I could share my experience with you and also to prove that it's not very difficult to cook a ham, especially since almost all hams for purchase in the grocery store come already cooked and most are pre-sliced as well. Originally, I planned to purchase an uncooked ham, but after calling the largest grocery stores in Charlotte and finding none, I realized that if I could be deterred so easily, none of you out there would bother to track down an uncooked ham either.
Color me lazy.
Buying a fully cooked ham makes the process so much easier. But be careful and check that the ham is not pre-glazed. That would take all the fun out of adding the wonderful flavors to the ham yourself.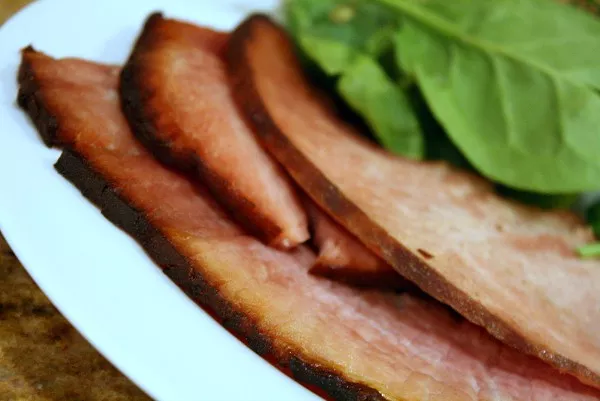 HONEY GLAZED HAM
8 lb. fully cooked bone-in spiral sliced ham*
1/2 cup honey
1/4 cup molasses
1/2 teaspoon onion powder
1/2 teaspoon garlic powder
1/2 teaspoon ground mustard
1/4 teaspoon ground cloves
Preheat oven to 350 degrees F. In a medium-sized bowl, whisk together the honey, molasses and all spices. Place ham in a roasting pan or deep baking dish. Baste the ham with the mixture generously using a brush. Once the oven has preheated, place ham in the oven and cook for one hour. Baste the ham every 15 minutes while cooking.
Remove from oven and allow to sit for 15 minutes before serving.
* It is completely optional to purchase a pre-sliced ham, but this does make the serving process easier.
Kelly Davis is a blogger, freelance writer, food enthusiast, and native North Carolinian. When she's not training for a race or cooking something delicious in the kitchen, she's writing, reading, snuggling her dachshund, or plotting her next project. You can keep up with Kelly's antics and recipes on her blog, Foodie Fresh.