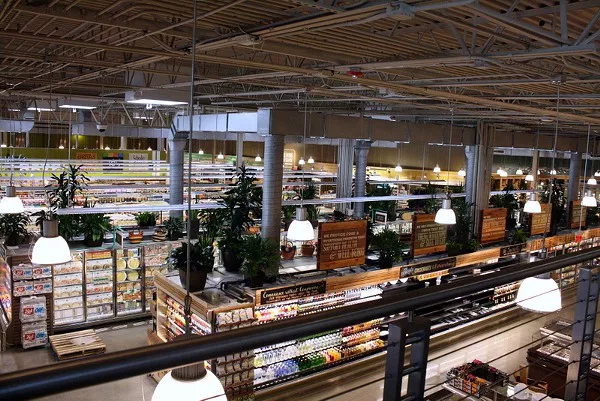 Bird's Eye View of the First Floor
On Wednesday, Aug. 29 (that's tomorrow!), the new Whole Foods Market will open at 8 a.m. with a FREE breakfast and an official bread breaking ceremony with Mayor Foxx at 8:30 a.m. The new store is located at 6610 Fairview Road, adjacent to Phillips Place in the SouthPark neighborhood.
I was invited to a special behind-the-scenes sneak preview yesterday and learned what makes this particular Whole Foods Market (WFM) so special. I've been a huge fan of WFM for years, making stops at their locations in Chapel Hill, Durham and Raleigh when possible, and am thrilled that Charlotte will now have its very own. It's about time!
Like a lot of groceries, WFM puts out samples throughout their store like this hatch chili salsa. Samples were out in full force yesterday for the enjoyment of those participating in the sneak preview tours.
Besides food, my tour group learned that WFM isn't just about whole foods, but whole living. They support this through their Whole Body section that has an apothecary style station for soaps and other products for the body and a gardening section.
One of the things I am most excited about with the opening of WFM is their huge assortment of bulk bins. For those of you who are not familiar, customers can purchase anything from dried beans to nuts, exotic dried fruit and mushrooms to quinoa, whole wheat flour to stone milled grits. Bulk bins are often cheaper than the exact same food in a prepackaged container, better for the environment (because you can bring in your own containers), and allow you to purchase only what you need.
Purveyors of WFM will find a cooking and learning station in the bulk department called "Cooking Charlotte." Here, a part-time Cooking Coach is available to give cooking tips and answer all of your probing cooking questions, like "What do I do with a Fava bean?" And, "Is Himalayan sea salt worth the extra expense?"

My heart skipped a beat a little when we wandered past their GIGANTIC display of chocolate bars. I'm a self proclaimed chocolate fiend and love to savor one really good dark chocolate bar a little at a time. New-to-me flavors combinations (like chili + chocolate) and different brands are one of my favorite grocery store splurges. The selection at this particular WFM is extensive.
My tour group also got a chance to sample some of the chocolate truffles from various artisan chocolate shops, carried by WFM such as sea salt dark chocolate caramels and smoke sea salt milk chocolate caramels. Amazing.