Queen's Feast: Charlotte Restaurant Week is now in full swing. The city-wide culinary event has been running since Friday Jan. 21, and will continue until Sunday, Jan. 30, 2011. Participating restaurants are providing $30 three-course meal deals.
I stopped by Aria Tuscan Grill last night to check out their Queen's Feast menu. The Uptown Italian restaurant offers a great deal. Instead of setting a menu of just a few items for three-course meal, they allow you to choose anything from their regular menu. According to our waiter, the portion sizes are exactly the same as the regular menu too. Fabulous! The only difference between the regular menu and the Queen's Feast menu is that the prices have been omitted on the latter.
I went through the regular menu online today and found the prices for the items my boyfriend and I had ordered to calculate the savings (check out the prices in red). Looks like my meal last night would cost $36 regularly ... so I guess it's like getting a free dessert.
Overall, it was a great dining experience. The service was great, the ambiance was beautiful, and the food surpassed my expectations.
Here's what went down last night. My notes are in parenthesis:
Primi:
$10 Shrimp Scampi - Oven Baked, Marinara, Chiles, Oregano
(Delicious! Buttery breadcrumbs mixed with a bright marinara sauce top 4-5 tender shrimp)
$11 Caramelized Gnocchi - Prosciutto di Parma, Pear, Gorgonzola, Truffle Oil
(Extremely flavorful gnocchi with a great slight crunch from the caramelizing. The pairing of the thinly sliced pear and prosciutto on top of the gnocchi and Gorgonzola sauce on the bottom were amazing. I'd dare to go out on a limb and say it's the best gnocchi I've ever had.)
Secondi:
$19 Spaghetti alla Pescatore - Shrimp, Clams, Mussels & Spicy Tomato Sauce
(Pasta was al dente, and the seafood tasted fresh. Wonderfully simple.)
$? Market Price Porchetta - Chef's Daily Preparation
(This portion of whole roasted pig served with greens and polenta was just ok. Not what I expected, but not bad.)
Terzi:
$6 Mascarpone Cheesecake - Strawberry Sauce
(Served room temperature, this cheesecake was fluffier than normal cheesecakes. Well done, but nothing extraordinary.)
$6 A Selection of Gelato & Sorbetto - served with Biscotti
(They have a huge selection of flavors to choose from. You get to pick three. I tried the blood orange sorbetto, pistachio gelato, and strawberry gelato. They came with a shortbread cookie instead of biscotti - no big deal. All were pretty good, but the blood orange was the flavor that got demolished the quickest.)
See the entire menu here.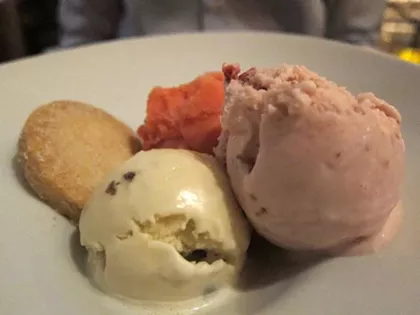 18 slides