I like to think I'm an open-minded kind of guy. I listen to other people's viewpoints; I try damn near any food I can put near my mouth; I even let people get through the whole YouTube song they wanted to play for me before I tell them their musical taste is complete shit.
I'm a downright egalitarian.
But there are a few things that I absolutely, positively will not budge on, and this is one of them: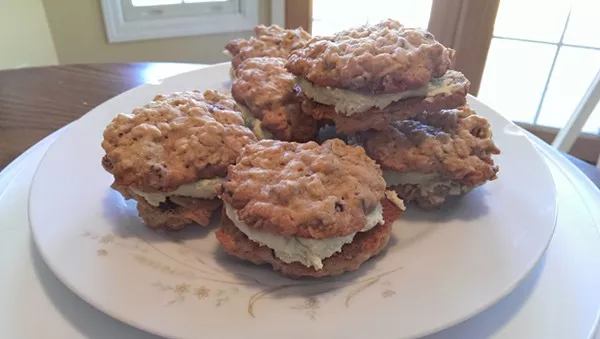 Oatmeal chocolate chip cookies are far superior to oatmeal raisin cookies.
I will go to war on this point. There'll be knives flying through the air and Anderson Cooper will be there rescuing refugees from my kitchen. We're talking full, nationwide coverage, people.
And here's the reason: Oatmeal cookies are already chewy. That's the whole point, and that's what makes them so delicious. It's all the warmth and softness of a bowl of oatmeal in your hand. Raisins are ALSO chewy. They're chewy as SHIT. So when you put two and two together, you get the goddamned chewpocalypse in your mouth. It's boring, uni-textual cookie snores. Yawn.
Chocolate, on the other hand, breaks up your cookie experience, both literally and figuratively. You get that nice, gooey pull-apart effect you see on those excessively food-porny close-ups on the Nestle Toll House commercials, and you get the silky texture of chocolate to break up the rougher oats. It just works, people.
Plus, it's fucking chocolate. And green tea frosting. What more explanation could you possibly need?