Jeans-clad twentysomethings file into the stark, black space of Actor's Theatre on Stonewall Street near downtown. Some clutch cups of Caribou coffee; others look as if they could have spent a few more minutes with a comb this morning. The seats aren't yet filled when the band kicks into action. Like the audience, the members of the band are outfitted in the ubiquitous causal wear of Old Navy or Abercrombie & Fitch. The music is best described as alternative rock, I guess. If you came looking for "Onward Christian Soldiers" or "Rock of Ages," you've come to the wrong place.
As the drums roll to a finish, co-pastor Matt O'Neil pulls up a stool and announces that he just opened his first Myspace.com account. "Now, I'm officially cool," says O'Neil, who at 40 is one of the older people in the theater today. Mention of the popular online social site is met with laughs from the audience ... er, congregation.
click to enlarge
Welcome to Watershed, where the service is called "Transit" (its Web site even uses the London Underground logo) and the bulletin is named "Frank." If the name Watershed doesn't tell you -- and how would it? -- this is a church. A bona fide, preaching-the-Gospel, Jesus-loving, Bible-reading church, affiliated with the Southern Baptist Convention. But there's nary a hint of fire and brimstone. And you don't need to dress up to come here. You don't even need to comb your hair.
Watershed is one of several churches in Charlotte hoping to attract the young, the non-believer, the seeker. Many of the churches spring from the so-called "emerging" church movement (adherents prefer the term "conversation" over "movement"). The congregations, mostly white, mostly middle-class, worship in non-traditional styles. Believers use terms like "postmodern," "authentic," "community." Of course, the churches aren't all alike. Some congregations focus on the here and now; others harken back to earlier Christian rituals. But one thing's for certain: This isn't the Old Time Gospel Hour, Hour of Power, PTL or the 700 Club. And the names Jerry Falwell, Pat Robertson or Jim Bakker aren't likely to be invoked here.
For those who prefer their spirituality without self-righteousness and judgment, it's refreshing. Instead of passing the plate, people can drop a few bucks into a metallic silver box as they usher in and out. There's no call today for congregants to make the long walk down the aisles to the sounds of an organ and give their hearts to Jesus.
That's precisely how O'Neil and co-pastor Scott Hofert prefer this church environment. They don't want people to feel pressured or to feel as though they're being sold something. And please, don't worry if you don't already believe. "We've got atheists that come to Watershed; we've got agnostics that come to Watershed. We've got Muslims that come to Watershed," says Hofert.
"Although we would say that we definitely are a Christian church, we are profoundly open to letting people discover God in this venue. Our agenda is not necessarily to try to give them all the answers. Our agenda is to ask the right questions."
But set aside the T-shirts and jeans, the guitars and coffee, and what's left? Are emerging churches really places for people turned off by organized religion, or is this just fundamentalist casual Friday? "It's a journey," says 30-year-old Steven Seibold, who's been coming to Watershed since its beginning, six months ago.
The Life Pursuit
"People are looking," says Hofert, 36, sitting inside the Caribou Coffee Shop in Dilworth, a place he refers to as his "office." Hobert has blondish hair cut in a casual, hip style and a warm, toothy smile. "I think people are fundamentally craving that spiritual journey. They're just trying to find a place that resonates with them."
Hofert and his wife, music director Taryn, came to Charlotte to create that place. They had determined that the average age of people living downtown was pretty young, and that those people needed a church that spoke to them. Last summer, Watershed began by hosting movies in Freedom Park, fare like Spider-Man 2, that adults could enjoy with their children.
click to enlarge
They mailed thousands of invitations and approached people they met in coffee shops and around town. One of those people was Seibold. "He [Hofert] asked me some really interesting questions, and I asked him some very interesting questions back," Seibold recalls. "What I enjoyed was just the dialogue. Sometimes things are answered, sometimes they're not."
"It's been an interesting journey to watch how people have kind of said, 'Alright, you'll let me discover here. You're not putting a gun to my head,'" Hofert says. "In some institutions, you have to belong before you become. In other words, you have to be a member before you can become a part of that faith, or a part of that structure."
Not at Watershed. Here, there's no stuffy organ music, no pretending to leave the secular world at the door in order to find God. "We want to do it in a creative, artistic, humorous, culturally savvy way," says Hofert. "We want to embrace culture."
Not that the church is total avant-garde. "We're not trying to be just some, like, way-out-there, edgy kind of church," he adds. "We embrace our culture, but we attempt to use that to communicate: Here's what God's doing in our culture."
On a recent Sunday, that meant showing clips of Bono speaking at the National Prayer Breakfast. Putting his messianic complex aside, the U2 singer's homily actually was refreshing (anyone exhorting President Bush to pay more attention to the poor is refreshing these days):
"You see, I avoided religious people most of my life. ... One of the things that I picked up from my father and my mother was the sense that religion often gets in the way of God. ... For me, at least, it got in the way. Seeing what religious people, in the name of God, did to my native land ... and in this country, seeing God's second-hand car salesmen on the cable TV channels, offering indulgences for cash ... in fact, all over the world, seeing the self-righteousness roll down like a mighty stream from certain corners of the religious establishment. ... I must confess, I changed the channel. I wanted my MTV."
Bono's words hit home to the congregation at Actor's Theatre.
"Even though I was a believer," the singer continued on the video screen. "Perhaps because I was a believer. I'd always read the Scriptures, even the obscure stuff. There it was in Leviticus (25:35) ... 'If your brother becomes poor,' the Scriptures say, 'and cannot maintain himself ... you shall maintain him ... You shall not lend him your money at interest, not give him your food for profit.'"
After Bono's image had faded from the screen, Hofert took to the stage to preach the values of generosity. But as much as he talked about generosity to the community, he also urged people to make pledges to the church.
Ethnomixocology
Starting churches is a costly business. Watershed, as well as two other emerging churches Creative Loafing visited -- Christ Central Church in NoDa and the Portico in Elizabeth -- rely on the support of more established churches. It's kind of funny to think of churches in downtown and hip art districts like NoDa and Elizabeth as being mission churches, but that's what these three are.
click to enlarge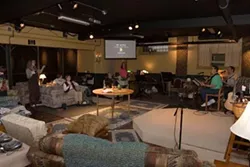 Christ Central Church began two years ago as a "church plant" of Uptown Christ Central Covenant Church, "to reach urban Charlotte and to reach a diversity of people," says pastor Howard Brown. He and assistant pastor Giorgio Hiatt originally wanted to find a place off Central Avenue, but they instead found the Neighborhood Theatre, normally a venue for groups ranging from Jurassic 5 to Kings of Leon to Leon Russell.
"This area just looked diverse," says Brown, sitting at the Smelly Cat coffeehouse across from the theater on 36th Street. An attractive 34-year-old with short dreds and an enthusiastic demeanor, Brown said NoDa was ideal. "It looked like NoDa appreciated art and beauty, and so when we got to the Neighborhood Theatre, we were like, 'This could work.'"
They also knew they didn't want to own a building. "We like the idea of renting," Brown says. "We like the idea of being a part of the community instead of doing something that in many ways could be civically irresponsible -- you put millions of dollars into a building or into property, when that money could be used in so many ways ... in our communities.
"Our goal," he continues, "is to be part of the community, not to be this separate fortress, but to be in step with what's going on around us."
Brown says Christ Central Church has grown steadily to about 150 people. The congregation includes "a mix of different people, from bankers to artists to teachers to social activists to stay-at-home moms to soccer coaches." Quite a change from the established, aging congregation Brown left in Baltimore.
"It's a privilege at Christ Central Church -- there are people who are not believers, who are not Christians -- to be in the congregation, and it's our goal as a church to have a conversation with those who are not Christians, to talk, to learn," Brown says.
But why do nonbelievers come? "I think that one of the initial things that probably draws them is the sense of community at Christ Central Church, and feeling like, OK, these are just people in my neighborhood and in my community," says Brown. "These are normal people I want to be around. Another thing is there's an honest conversation, discussion, about the world, about humanity and about people. I think we all have a common ground at Christ Central Church, whether you're Christian or not."
Christ Central will be sending members to Nairobi to make a documentary about the shortage of doctors in Kenya. But philanthropic projects aren't the only way this church -- and Brown -- appreciates media. In February, the church put together the NoDa Film Festival at the Neighborhood for free. With a cash bar and neglected, mature-themed films such as Chameleon Street, To Sleep With Anger, various hip-hop documentaries as well as the Spike Lee Classic Do The Right Thing, the festival was hardly a revival night-like venture.
Appreciation for popular culture is by no means confined to Christ Central Church. The respected alternative music magazine Paste, for instance, was founded by Christians who don't see the line between the secular and the sacred as impermeable. "The Church, particularly in the last 50 years, has taken an approach that, 'Hollywood is evil and rock & roll is evil, and we will create our own separate Christian culture,' rather than engaging culture," says editor Josh Jackson. "In reality, Christians still end up watching the same movies and listening to the same music in a lot of instances, but [are] being told that they can't take part in that. There's so many wonderful things going on in our culture that the Church has just ignored."
Evidence of Jackson's faith can't be found within the magazine's pages, and he says Paste is neither a "Christian publication" -- you won't find coverage of one-dimensional praise-music acts like Steven Curtis Chapman or Casting Crowns -- nor does the magazine have any hidden Christian agenda. "We're not trying to do anything other than shine a light on some of the more celebratory pieces of art in our culture -- great music and great film and great books, even video games."
You won't, however, find much coverage of music that glorifies violence or misogyny. And Jackson says Paste's attempts to treat real artists -- from indie singer Cat Power and emerging acts like the Arctic Monkeys and Carolina rappers Little Brother to inventive film artists such as director Wes Anderson and actor Philip Seymour Hoffman -- with respect might result in slightly less snarkiness than you find in other music mags.
Christ Central's Brown says there's nothing odd or wrong with appreciating and promoting secular art. "Part of what it means to be a believer is ... looking at what God has created, at who God has created, and finding and enjoying what is good about it.
"If I go to McDonald's," he continues, "and eat a hamburger, it's not only good if a Christian makes it. It's a good burger. And if a Christian makes it, it could be a bad burger, depending on how well he does it. And so I think part of what it means to believe that there is redemption, and to believe that God created the world, is to look at the redeeming aspect of it, to look at it's beauty."
That doesn't mean he overlooks the bad or the spiritually deficient. "Even in things that are good, there are imperfections," he says. "I think the Church has majored on exposing the imperfections of things."
Is this It?
American churches have always dealt with the dilemma of how to propagate their flocks, says Dr. Bill Leonard, dean of the Wake Forest University Divinity School in Winston-Salem. The competitive nature and variety of denominations means that churches must compete, particularly for younger people. A generation ago, for instance, the drive to engage young people played a role in the development of today's megachurches. According to the Metrolina Baptist Association, the number of churches in the Charlotte area today isn't keeping up with the region's population growth.
But change doesn't come without controversy. Any new approach to theology draws criticism. The very nature of the emerging church trend, however, has been a lightning rod, particularly among conservative evangelicals who believe those churches have "not stood up for certain dogmas ... and that they're kind of soft on certain identifiable Christian beliefs," Leonard says.
Some emerging churches in Charlotte, despite the laid-back atmosphere, belong to denominations that have some pretty conservative underpinnings. The emphasis on openness and dialogue does not necessarily mean these emerging churches are among the ranks of more liberal groups like the Religious Society of Friends (Quakers) or Unitarian Universalism.
Watershed is part of the Metrolina Baptist Association's New Churches for the New Millennium initiative. The MBA is part of the Southern Baptist Convention, which doesn't believe women should take leadership roles, says homosexuality is wrong ("not a valid alternative lifestyle," in the words of the SBC's position paper) and anathematizes sex outside of marriage and abortion. (Its position is: "Procreation is a gift from God, a precious trust reserved for marriage. At the moment of conception, a new being enters the universe, a human being, a being created in God's image. This human being deserves our protection, whatever the circumstances of conception.")
Christ Central Church is a congregation of the Presbyterian Church in America. This denomination split in 1973 from the larger, mainline Presbyterian Church USA, "in opposition to the long-developing theological liberalism which denied the deity of Jesus Christ and the inerrancy and authority of Scripture," according to the PCA Web site. "Additionally, the PCA held to the traditional position on the role of women in church offices." It has one of the most adamant anti-abortion position statements of any Protestant group. In 1999, the denomination advised its churches to warn parents "of the homosexual agenda being promoted through the agency of government schools."
Leonard, who has studied the emerging church trend, says it is not unusual for members of such congregations to shun their churches' denominations. "This under-30 group is much less connected to denominations and [often] will not identify themselves with a denominational name, even if they're in a church related to a denomination," Leonard says.
"At the same time, part of the paradox of this is that denominations needing to develop a younger constituency are willing to use the emerging church model and help those churches get started, I think, in hopes that this will have an impact on their denomination."
Brown says hot-button social issues aren't the focus of Christ Central Church. Its membership reflects different ideologies and political beliefs, he insists. "We believe that everybody has to come to one place. We don't believe that the answer is a certain political party, we don't believe that the answer is in certain behavior changes," he says. "We really wholly believe and drive people not towards some type of moral conservatism but toward the Gospel."
Leonard's findings agree. He says many emerging churches are saying they don't want divisive social issues to turn people off. "So if you're going to come to our church," Leonard explains, paraphrasing the emerging-church philosophy, "we're not going to ask you what you believe about homosexuality or abortion or alcohol or drugs. We're not going to make you sign a sex pledge. We're going to let you come and try to have some healing in the context of a group that is worshipping together, caring for each other, etc.
"And I think that's sort of what's happening," Leonard says. "On one level, that sounds very good. On another level, more conservative folks may say, 'Well, what's Christian about that?'"
Separation Sunday
The Rev. Rodger Sellers realizes his church, the Portico in Elizabeth, might be a little scary to some Christians, even fellow Presbyterians. "The more traditional a person is, it tends to be a little frightening to think about, 'Oh, those people at the Portico, what are they going to do next?'"
For starters, the Portico meets in the evening. The congregants gather in a basement and sit on couches. They don't even have an organ.
In January, the Portico's sermon series focused on the spiritual metaphors and lessons in the Matrix films starring Keanu Reeves. "There are some things we believe, and we're not going to walk outside that belief," says Sellers, "but there's a whole bigger circle. We're saying we want to fling those doors wide open and see what happens. Let's see what God's going to do. Which is exciting for us." But, he hastens to add, "It's frightening for some."
Sellers' church is affiliated with the mainline Presbyterian Church USA, which generally takes moderate to liberal stands on social issues. A few years ago, Sellers took a cross-country trip to find out what this whole emerging church trend was about. He visited about a half-dozen churches, posted his observations online and came back to Charlotte to start the Portico.
The congregation meets in the basement of Caldwell Memorial Presbyterian Church on Park Drive, a block north and west of Presbyterian Hospital. The space has been converted to a sort of living-room atmosphere ("It doesn't look like a church, but we really, really are," says Sellers), with secondhand couches placed in a semicircle around a cross and a few lit candles.
On a recent late Sunday afternoon, about 15 people, mostly well into adulthood, gathered in the basement a few minutes before the service began. Sellers' talk is less a sermon than a discussion. The people seated on the couches, even the children, chime in with questions and scriptural references.
"Let's pray," Sellers says, after the music stops. During the next minute or two, meditative music plays as Bible verses are displayed on a screen over disparate images.
"It often doesn't feel like prayer," he says after the music stops and people look at him to speak. "Because we've been taught that praying is conversation, or, in the worst-case scenario, that prayer is a checklist of things we need to do or ask God's blessings -- we need this or we need that ..." he says. "This is contemplative prayer. It's prayer that's beyond words. ... We're not conscious of words or questions or answers, we're simply opening ourselves up to be conscious of God's presence."
Emerging churches have been compared with the Jesus Movement of the 1960s, when hippies became "Jesus freaks" and attempted to adopt the theology of the early Christians to their own lifestyles. Jesus freaks were anti-materialistic, evangelistic, believed in Biblical inerrancy and exhibited a zeal for Jesus Christ. They often embraced communal living.
Leonard compares conservative Christianity's initial rejection of the Jesus Movement with how traditionalists have reacted to emergent churches today. "Many churches at first reacted against it: 'Oh, we don't want a youth minister who has long hair and a pierced ear,'" he says of '60s and '70s congregations. "Then they turned around and saw that these people were often very helpful in getting the attention of young people. So then many churches wanted a youth minister with long hair and a pierced ear."
Both movements have similar motivations, Leonard says. "They're really saying there are a lot of people who have been turned off by church, there are a lot of people who are also turned off by the methods and the size of the megachurches that seem very impersonal and seem more like show business," he says. "Well, the emerging church says, we'd rather be a friend's coffeehouse. We'd rather, instead of having the sage on the stage -- the pastor -- we'd rather have the pastor as the guide on the side; that is, we'd rather have the community as the centerpiece of worship, not just one person who's telling us what to do."
Church trends are cyclical, though, and often don't last beyond a generation or two. So will emerging churches go the way of Jesus freaks? Hofert, co-pastor at Watershed, says his church isn't intended to be simply a segue for young people into more traditional churches. "Our hope is we talk about topics that are deep enough where somebody could walk in and walk with God for a lot of years and also are relevant for first-time visitors," he says.
Billy Strickland, who's attended Watershed from the start, attended a few churches such as Warehouse 242 and South Charlotte Fellowship before finding Hofert's group. All have nontraditional worship styles, and that's the way Strickland likes it. "I heard someone say, if there were three rules that you have to follow to become a Christian, you could live by those three rules and then you'd be done with it. ... But Christ is more of a mystery. You're forced to constantly explore that mystery your entire life."
Strickland doesn't always see eye-to-eye with Watershed pastors O'Neil and Hofert, but he says that's not important: "The cool thing is, they want to keep discussing it."
Karen.shugart@creativeloafing.com
Staff writer Jared Neumark contributed to this story.