click to enlarge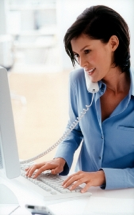 I know I will probably step on some toes with this article, but it's not my job to be a cheerleader. My job is to provide the information that will allow you to maximize your personal and professional life. So, at times I have to call some people to the carpet. Today, it's the ladies.
It's time to stop dressing like you're going to the club when you go to work. What looks cute at The Epicentre may not be appropriate for Bank of America. I know we all want to feel comfortable when we are at work. However, there is a thick line between comfort and conspicuous.
When you are at work, you should look professional. Don't you want to be treated as an equal? Professionals dress with the intention of displaying power, confidence, strength and dependability. Their goal is to display to their clients that they have the ability to perform their needed task. Ninety percent of professional women do that. To the other 10 percent of you who are upset, tough! I just call it like I see it.
click to enlarge
If you want to raise your respect, raise your neckline! Sure there are a number of men who love to look at your cleavage. But do you think they are thinking about your professionalism while they are looking at your chest. No, they're thinking about sexing you up. Don't blame him for looking — you showed them to him. The same with your skirt: If you have to spend half the day tugging on your skirt, then maybe you should wear a proper fitting one. If your client spends as much time trying to look up your skirt as he does listening to you, he's only listening to you half the time.
I know some of you are going to say, "Sex sells." I agree — in advertising. If you are trying to look good, look professional. Most men love looking at beautiful, strong, confident women. They respect them. They appreciate them. Most importantly, they do business with them. If you are attractive, trust me, we know it.
click to enlarge
I'm a professional, successful man who spends a significant amount of time in various venues. The last person I want to do business with is a female that I can't tell if she just left her office, or got off the pole. The things I'm saying to you are the same things I hear other men say as well. I'm just giving you the information. Do what you will with it, but don't blame everyone else when the professional women in your office consistently outperform you.
William Wilson is a nationally respected men's clothier and image consultant. His clients include professional athletes, CEOs, and corporations. His homepage is www.WilliamtheClothier.com. Follow William on Twitter: www.Twitter.com/theclothier.