Sept. 22 kicked off the three-day fashion event for the Charlotte Seen Fashion Week, held at Gateway Village on West Trade Street. Thursday night's show was the People Choice Award among four emerging designers. Each designer showed their line and at the end of the show the audience texted in who they thought had the best collection among the four. It was Charlotte's equivalent of Project Runway.
Miikelle Fowler was the first of the emerging designers to show her collection. A trained architectural engineer Fowler has only been designing since 2007. Miikelle had a bright collection inspired by the '50s and '60s with floral print filled with oranges and purples. This collection was fun and playful, definitely pieces that are perfect for spring.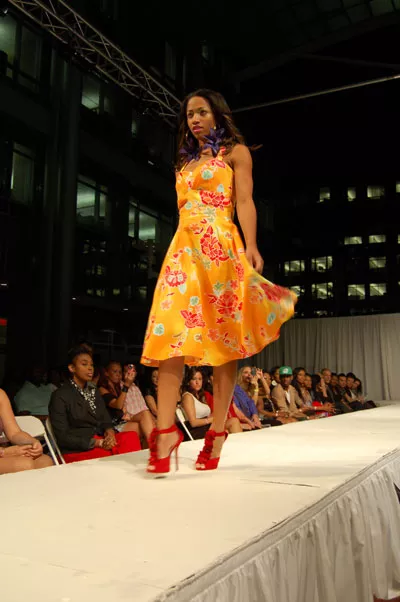 The next collection to grace the runway was Anno Domino Designs, which means In the Year of Our Lord in Latin, by Emily Kramer and Amanda Gaskins. Anno Domino Designs work to be as world-friendly as possible, using organic cotton and natural fabrics (such as silk, linen, cotton and wool). The pieces are sustainable, recyclable and natural. This was one of my favorite collections only because the opening dress was this beautiful peacock dress, and after that I was hooked. All the pieces really made sense. That is really important when watching a fashion show: The pieces need to tell a story as though they are characters, and this showcase did that for me.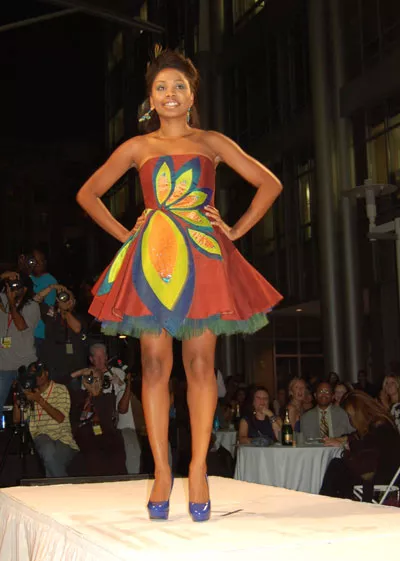 Amber Johnson's collection followed Anno Domino Designs on the runway. The fabrics are also about being natural, recycled and are from re-purposed fabrics. Her passion about sustainable fabrics is also worked into her inspiration as her pieces are about the natural textures, patterns and colors of the fabrics. Amber Johnson made me fall in love with natural textures and colors ... seriously, I ooo'ed and ahhh'ed over almost every piece. The dress pictured with the over-sized cowl scarf, makes me scream hello fall.
The final emerging designer to show was Fashenelle by Shenelle Evans, who was born in New York. I'd say it is as though she was born to live and breathe fashion. Evans started off as a model, but while modeling she gained an interest in fashion and has pursued it ever since. The Fashenelle collection was sophisticated and included her new addition of handbag designs. You can tell that Evans is not only a designer who loves fashion, but is passionate about style and posh — those models worked it because the pieces were amazing. The fur piece, I die for it. Seriously. It is spot on for this seasons trends.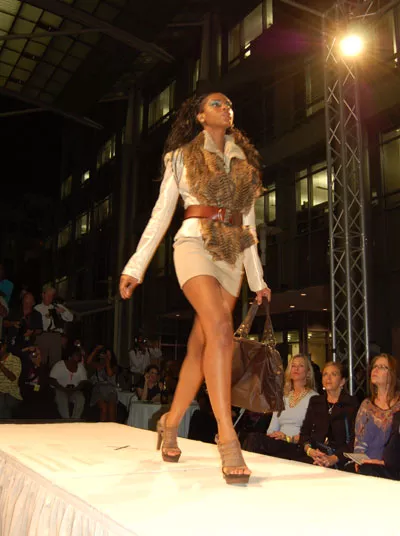 The winner of the People's Choice Award for Charlotte's Seen Fashion Week was Anno Domini Designs. Congratulations!