Style magazines say cute summer dresses are some of the biggest trends this season. Unfortunately, with my wallet having a lock and chain around it these days, it's hard for me to splurge on the must-have dresses I see in store windows.
But come on now, who can resist every time? That's why when I feel the urge to scratch that shopping addiction, I look for pieces that give me a bang for my buck. Summer dresses are so "in" right now — every store you walk in has racks and racks filled with different styles of dresses. Remember, even if the dress has spaghetti strap, halter or is strapless, you can always throw on a cute jacket or cardigan and you're ready for work. If it's a simpler dress that caught your eye, match it with a sparkly purse or necklace and you've glammed it up for a night out on the town.
A popular boutique in Phillips Place, Belvello has plenty of choices when it comes to dresses. Even though the boutique showroom is small, there are dresses for everyone, whether you prefer patters, solids, sleeves or straps.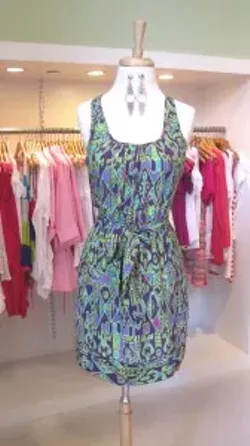 This dress is $145. The silky fabric and cute cut makes it perfect for a day date or night out. Just throw on a little jacket and you're ready for work.
This $138 dress is tube top and flashy with it's bold patter, but with a simple cardigan or blazer it's appropriate for work.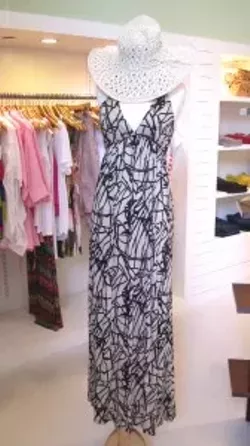 This halter cotton maxi dress is $99 and we matched it with a button up collared shirt to make it work for in the office.
Belvello
6815 C Phillips Place Ct.