This could be the last New Year's Eve ever, so you've got to party accordingly. We, here at CL , have compiled a massive list of shenanigans for you to examine before making a final decision on where you'll be ringing in 2012.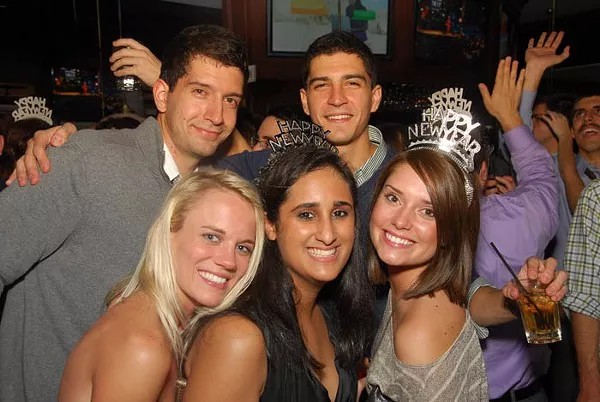 Allure Lounge: Nu Year's Eve party hosted Teice. Presented by Tom-Tom Productions and Nu-U. $10 in advance; free with flyer until 10:30 p.m. 1508 S. Mint St. 704-333-8555. www.allurerestaurant.com.
Bar Charlotte: The Last NYE Ever party includes favors, a complimentary champagne toast at midnight, mechanical bull rides and a balloon drop with cash and prizes. $20 in advance. 300 N. College St. 704-342-2545. www.barcharlotte.com.
BlackFinn Restaurant & Saloon: Flappers unite for a romp back in time to the Roaring Twenties. The shindig includes party favors, a complimentary champagne toast at midnight and light complimentary hors d'oeuvres served throughout the night. Don't forget your feather boa. Tickets guarantee admission before 10:30 p.m., after will be firstcome, first serve. $25 and up. 8 p.m. 210 E. Trade St., Suite B-120. 704-971-4440. www.blackfinncharlotte.com.
Breakfast Club: The ninth annual Back to the Future Bash features three levels of festivities, party favors, a champagne toast and confetti blast at midnight and, most importantly — for those of you who haven't quite moved forward musically - '80s and '90s dance mixes all night long. $20 in advance. 9 p.m. 225 N. Caldwell St. 704-374-1982. www.that80sclub.com.
Buckhead Saloon: New Year's Eve party featuring beer, wine, liquor and soda, party favors, live music by The Scott Munns Band and DJ. For more information or to make reservations, e-mail buckheadcharlotte@gmail.com. $50. 9 p.m.-2 a.m. 201 E. 5th St. 704-370-0687.
Dharma Lounge: DJ Jask headlines and Identity Theft and Tag Techno host with performances from a handful of DJs — Jason Phillips, KT Caustic, Kev Kev, Nat Eichler and Proton Jones — who want to enlighten you with their spinning capabilities. Champagne toast at midnight too. $12 in advance. 9 p.m. 1440 S. Tryon St. 704-334-8336. www.dharmacharlotte.com.
Butter: Music provided by DJs Ciprian, A Huf and Edouard. To reserve tickets of VIP tables, call 704-295-1565 or visit www.ticketleap.com (keyword: Butter NC). 8 p.m. 950 Seaboard St. 704-295-1565. www.buttercharlotte.com.
Founders Hall: You can expect a New Year's Eve shindig by the likes of Bluegoose, Inner Circle Events, The Sol Kitchen, RoundTable Ent. and M. Simmons to be pretty slick. Music by DJ C. Rob provided. VIP tickets include a premium top-shelf open bar and a food menu. For more information, visit www.nyecharlotte.com. $20 and up. 9 p.m. 100 N. Tryon St.
The Chop Shop: NYE party features music from DJs and headliner, Iron Cordoba, fetish performers and dancers from Single Cell Productions, booze, games, aerial artists and bellydancing by Niamia Sultana. $5. 9 p.m.-2:30 a.m. 704-765-2467. www.chopshopnoda.com.
The Comedy Zone Charlotte: John Wesley Austin, aka "cowboy comedian," has lassoed his funniest material for tonight's performances — yeehaw to that! The late show features a final countdown to 2012 with party favors and a champagne toast. $20-$22.50 for dinner show at 8 p.m. ; $30-$32.50 for late show at 10:15 p.m. 900 Seaboard St., Suite B3. 980-321-4702. www.cltcomedyzone.com.
Corner Pub: The NYE bash features drink specials and a complimentary champagne toast at midnight. Register between 7 p.m.-10 p.m. to win a $100 Corner Pub gift card (winner will be announced after midnight and must be present to win). 4 p.m.-2:30 a.m. 335 N. Graham St. 704-376-2720. www.cornerpubcharlotte.com.
Coyote Joe's: $10 cover includes free party favors and a champagne toast at midnight. Doors open at 7 p.m. and live music by Out Of The Blue kicks off at 9 p.m. 7 p.m. Coyote Joe's, 4621 Wilkinson Blvd. 704-399-4946. www.coyote-joes.com.
Dilworth Neighborhood Grille: New Year's Eve party featuring four bars with beer, wine and top-shelf liquor, two buffets, a champagne toast at midnight, music from DJ Mike D and DJ Dynamite and more. $70. 911 E. Morehead St. 704- 377-3808. www.neighborhoodgrille.com.
The Dirty Martini: NYE celebration with free hor d'oeuvres (from 8 p.m.-10 p.m.), party favors, a balloon drop, a broadcast of the countdown in Times Square, a champagne toast at midnight, and guest DJ. $10-$15. 17036 Kenton Drive. 704-533-3054. www.lkndirtymartini.com.
Dixie's Tavern: Casino Royale is a Vegas-style New Year's Eve shindig featuring light hors d'oeuvres, alcohol, party favors and music by DJ Fat Kidd. Hosted by Crash of Kiss 95.1. $60. 9 p.m. 301 E. 7th St. 704-374-1700. www.dixiescharlotte.com.
Flying Saucer: Beer, beer and more beer — that's what comes to mind when we think of Flying Saucer. Situated by UNC Charlotte, the crowd is mixed with college students and folks who are smart enough to know there's good beer from around the world to be found here. For New Year's Eve, there will also be party favors, a champagne toast at midnight, special drink specials and live entertainment. $10. 9 p.m. 9605 N. Tryon St. 704-568-7253. www.beerknurd.com.