Hallelujah! Spring has sprung and we Charlotteans finally get to do what we do best: Drink cold, refreshing beer on an oversized patio while playing cornhole and ping pong. The ladies are breaking out the sundresses and the lads are strapping the Croakies on their Ray-Bans. I hope you already have a base tan, because here are the top five patios you'll want to hit up this spring and summer in the Queen City.
* VBGB - This place stands for "Very Big German Beer," but that ain't the only thing that's big! (TWSS) Their patio is large and in charge, my friend. VBGB's outdoor space consists of many picnic and ping-pong tables, cornhole boards and even a GIANT chess game. On the weekends, it's not unusual to see some four-legged friends here, as dogs are most definitely allowed on the patio. A DJ spins outside if the weather is nice, and even though there is no table service, you can order a local craft brew from the drive-through style window located on the back side of the building right from the patio.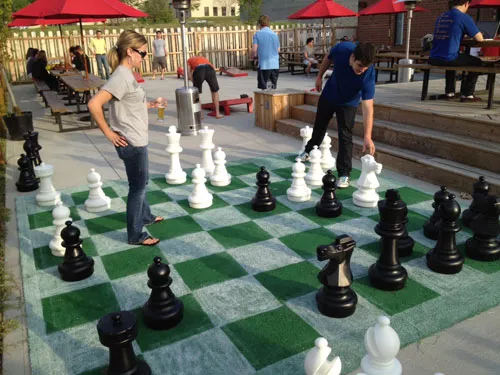 * Thomas Street Tavern - Definitely a Charlotte patio staple, Thomas Street is where the cool kids go to chill when it's warm out. Their patio is loaded with picnic tables with umbrellas, ping-pong tables surrounded by an ever-convenient net and even its own outdoor bar. The vibe here on the weekends is awesome. It's an easy place to meet new peeps or socialize with a large group of friends, day or night.
* Selwyn Pub - OK, so you might see more Croakies and Ray-Bans on this patio more than any of the others, but Selwyn does it right. I even go here during the winter months, thanks to their nifty tables with built-in fireplaces. This veranda is littered with flat-screen TVs and the comfiest outdoor couches! Some of their tables seat groups of 10 or more comfortably, but if you want these prime spots, you need to show up early. Selwyn Pub also hosts a fully-stocked outdoor bar and if you're lucky enough, you might even catch a Michael Jordan or Fred Couples sighting at this preppy spot.
* Connolly's - Located smack-dab in the center of Uptown is Connolly's, another great patio to have some outdoor drinking fun. They also have ping pong and cornhole (I see a likeness here) and shiny flat-screen TVs for those of you who don't want to sacrifice watching the game as you toss some bags. This outdoor area is a tad smaller than the others, but it is in Uptown so it's par for the course. The late-night crowd on the Connolly's patio is always drunk and fun, so be prepared for some shenanigans if you're a newbie here. Oh, and look up! The view of the buildings around this area is beautiful to admire from the ground-level.

* Whiskey Warehouse - There aren't too many activities to participate in on the "Rooftop Bar" at Whiskey Warehouse except for drinking, but that's really the only one you need after all, right? At sunset, the view of the Charlotte skyline from the bar is absolutely gorgeous ... and the lady bartenders aren't too bad to look at either. This patio has a casual, breezy mood to it, and I feel like I can actually breathe while up there! The WW staff is always on point and the crowd is usually laid-back. I like this patio, err ... deck, because it's not the typical cement-laden patio.
Honorable Mentions
Common Market - Excellent selection of more obscure, bottled beer; good eats; reels like you're in a friend's backyard.
Kennedy's - Another large patio but more suited for dining & drinking only.
Vivace - The view alone is worth a trip here; great lounge furniture; more upscale choice.
RiRa - Frat central at times, but pretty, breezy view of Uptown from the second level nonetheless.
Jackalope Jack's - More cornhole; cool set-up outside (right on 7th Street) and draws a pretty great crowd.
Solstice Tavern - The best NoDa patio fo sho.
Any awesome patios I missed? Let us know where you throw down when the weather's right in the Q.C.!
April Smith is a social media marketer and blogger and has worked in Charlotte nightlife for more than five years. When she's not writing or tweeting, she's most likely running, watching sports or out on the town.