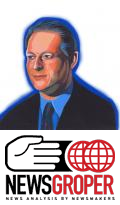 By Al Gore
Let me start off by clearly stating that I, Al Gore, do not condone suicide bombings. I know that suicide bombings are very popular in certain parts of the world, but just because it's popular doesn't make it right. Take the "where's the beef" tattoo I got in support of Walter Mondale in 1984. It seemed pretty cool at the time, but in the end, he only won Minnesota, and I could never look at my lower back the same way again. I haven't worn low-rise jeans since.
That is why if you are going to be caught up in a fad — be it acid-wash jeans, razor scooters, or driving a pick-up truck full of dynamite near a Shiite shrine — at least try to be socially and environmentally conscious when you do it. That is why I have this suggestion for all the "cool" and "popular" suicide bombers out there: If you are going to car bomb, carpool.
Politics and clan affiliations are debatable; global warming theory isn't. Every unnecessary car on the road bring us 14 minutes closer to the apocalypse, according to a study I did when I had the flu and drank a whole bottle of Dayquil. So who is the real victim of car bombings? The victims? I don't think so. It's our mother earth. And remember, there are millions of people in war torn countries, but only one earth.
News Groper (newsgroper.com) features over 50 parody blogs by politicians, celebrities, business tycoons, and foreign despots.