Friday, April 4
Film
click to enlarge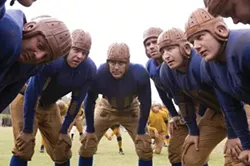 Leatherheads
: Are you sick of hearing about this movie yet? Well, too bad! Because North Carolina needs to represent in the box office this week, and show George Clooney how much we love him and his Hollywood dollars filming in our fair state. Then he might come back, and brings friends Brad Pitt and Matt Damon. Can we say,
Ocean's 14: The Bank of America Heist
? Hey, let the fangirls dream. Until then, catch George and Renee at your favorite theater.
www.charlotte.mrmovietimes.com
. And check out the publicity photos of Georgie-boy and Bridget Jones in the Film section.
Music
Loving the Alien: David. F**king. Bowie. Need we say more? OK, it's not the real David Bowie, but probably the closest any of us in Charlotte will ever get to Ziggy Stardust. This year's annual Fool's Brigade Benefit, Loving the Alien: A Tribute to David Bowie, features nearly 20 acts covering all things Bowie, with proceeds going to the Metrolina AIDS Project. For you charlatans who don't know the power of Bowie, this is your opportunity to be educated. $10, doors open at 8 p.m. Visulite Theatre. www.visulite.com. Find more in Music.
Arts
Jerry Seinfeld: Sure, Bee Movie sucked, but don't sleep: Jerry Seinfeld was, is and always shall be a consummate funny man. He's dedicated to the near-extinct art of stand-up comedy and you'll never see him hit a stage spouting old, stale material. All kidding aside, he's a legend because he refuses to put the kidding aside — and we should all thank the heavens for that. $45-$75. 7 p.m. Ovens Auditorium. www.ovensauditorium.com. Find more in Arts.
Food
Situl Indian Restaurant: Cozy North Indian restaurant serving generous selections of big flavor in a sparse atmosphere. Hidden behind the Park Road shopping center, it can be a little tricky to find the first time you go, but once you've been, you'll never forget. They also offer a yummy lunch buffet. Good for all you carnivores and vegetarians alike. 540-B Brandywine Rd. 704-523-0037. Find more in Food.
Saturday, April 5
Film
Show Business: The Road to Broadway: Couldn't get tickets for Wicked next week? Yeah, neither could we. But instead of dropping half a paycheck on eBay for a seat in the last row, we're going backstage, virtually and for free. In the new film by Dori Berinstein, you can get a look at what happened backstage when Wicked and Avenue Q opened on Broadway. For the low, low price of your attention span, you can catch scenes from Wicked a week before Muffy McMoneybags from Ballantyne does. 8 p.m. McGlohon Theater. www.blumenthalcenter.org. Find more in Film.
Music
Cash Bash: Bowie and Cash in one weekend? Did a tornado move our city to the musical equivalent of Oz? Either way, we're not complaining, or clicking our heels to leave any time soon. Local bands will cover Cash songs in this tribute to the Man in Black. Tonight, catch Rocket 350, Rebel-Son, The Bo-Stevens, The Kings of Hell, Rev. D-Ray & The Shockers, Wink Keziah & Delux Motel, The Tremors and Tommy Ray & The Rayguns and walk the line with Mr. Cash. $12. Tremont Music Hall. www.tremontmusichall.com. Find more in Music.
Arts
Big Mamma's House of Burlesque: Skip the bump and grind tonight and head over to the Visulite for some real entertainment. Big Mamma's House of Burlesque presents Paris in the Spring: A Night at the Moulin Rouge. This show has everything from vaudeville and burlesque to comedy and magic all in a romantic Parisian brothel setting. Take some tokes in the hooka lounge and enjoy the show! $12-$15. 9 p.m. Visulite Theatre. www.bigmammasproductions.com. Find more in Arts.
Food
Portofino's Italian Restaurant & Pizzeria: Rustic Neapolitan dishes, New York-style pizza and a cheery atmosphere to boot … a perfect Italian boot at that. The Eastway locale serves huge portions of pasta that stomp Olive Garden down. Just keep your Godfather impersonations to yourself when ordering. There are multiple locations around the area (shout-out to our Gastonia readers!), so visit their Web site to find a Portifino's near you. 3124 Eastway Dr. www.portofinos.us/index.htm. Find more in Food.
Sunday, April 6
Film
Opening this weekend: Nim's Island, The Ruins, Shine a Light, and Snow Angels. Visit your favorite theater and be one of the first in Charlotte to catch these flicks. Local theaters. www.charlotte.mrmovietimes.com.
Find more in Film.
Music
Yardwork: Comprised of former or current members of Calabi Yau, Control, Minority Party and Harvard, this band's declared mission is to bring punk band energy to a more acoustic pop/folk medium and, according to one Yardworker, "spread awesomeness and positivity around the globe." Hard to argue with that, even harder not to fall in lust with the sing-along urban field hollers that highlight these two cuts and recall the Akron/Family, Yeasayer and Megafaun vibe. With Pico Vs. Island Trees. Snug Harbor. www.snugrock.com. Find more in Music.
Arts
Master of Beads: Evidently, beads aren't just for Mardi Gras. Artist David Chatt transforms the ancient art of bead-working into modern sculptural forms infused with humor. We're not too sure how beads can be humorous, but we're sure he'll teach us. Free for your Sunday afternoon delight. 3 p.m. Mint Museum of Craft and Design. www.themintmuseums.org. Find more in Arts.
Food
Solstice Tavern: If you've been to NoDa, you've probably seen Solstice as you were strolling the streets. Time to go in and have a bite and beer. Multiple TV's for sports, lots of good beer, and better food. The extensive menu has everything from great appetizers to wraps and burgers. And cheese tater-tots. Did we mention cheesy tater-tots? Like cheese fries, but tots. Yep. 3221 North Davidson St. www.solsticetavern.com. Find more in Food.