click to enlarge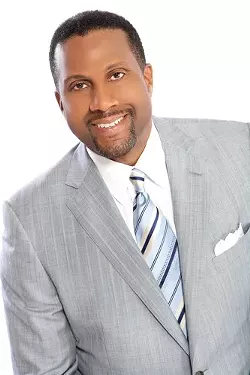 If you called Tavis Smiley articulate, you'd be condescending — but you'd be right. If you labeled him angry, you'd be stereotyping — but you'd be right. The popular syndicated radio and TV host isn't afraid to speak his mind, especially when it comes to issues affecting African-Americans. Today, Oct. 10, you can see Smiley as he brings his Nationwide "On Your Side Tour to the Charlotte Convention Center. It's an all-day, free event that will feature speakers and seminars, focusing on empowering the community through financial literacy.
Days before his Charlotte event, and minutes before he had to hop to his radio gig, Smiley took some time to talk about the importance of the event, bash big banks, and speak some choice words about your favorite American president.
Creative Loafing: How did this tour come together and what are you seeking to accomplish with it?
Tavis Smiley: We've been at this for two or three years now and it's basically a tour about financial literacy. I believe that information is power, that knowledge is power, and we try to empower people to live better lives by making better decisions. I hate to see black people living beneath their privilege. And so much of us living beneath our privilege has to do with us not getting our money right, not being financially literate. Over the course of my career, I've done a number of tours on a variety of subjects. Now we're on this tour about financial literacy, and I had no idea when we started this tour that the economy would become the shape that it's in, and that black people would be suffering so badly. But the timing of it turns out to be pretty good in terms of giving people the message of hope and giving them information that can help them live better lives and make better choices.
Since you're talking about the bad shape the economy is in, what's it going to take for us to climb out of it?
Here's where I think we have to properly contextualize our celebration of Barack Obama as president. And by that I mean he can be a great partner, and I'm glad that he's there — we all celebrate the fact that he's there. But at the end of the day, we're going to have to save ourselves. Even with a black president, pardon my English, but the cavalry ain't coming to save us. We have to do our part, No. 1. No. 2, I'm concerned about how his policies have been rolled out so far. Right now they're celebrating on Wall Street. Wall Street is back! They're back with our taxpayer money. We bailed all these folks out, but the recovery hasn't hit Main Street. And it sure hasn't hit the side street. On Wall Street they're celebrating already, passing out bonuses at the end of the year.
The president said he believes rising tide will lift all boats — that's what he said when I asked him about black unemployment at his press conference at the White House some weeks back. Well, a rising tide does lift all boats, but when the tide comes, it's a difference when you're in a yacht and I'm in a dingy. So it's more than just a rising tide lifting all boats. It's about putting a laser-like focus on black unemployment, it's putting a laser-like focus on the issues that travail black people. But you can't do that if you're scared to talk about race and racial disparities.
So the message from me is the same as it's always been. When I tried to talk about accountability last year during the presidential campaign, black folks wanted to cut my head off. Nobody wanted to hear this talk about accountability and that's where we are now. With or without a black president, we are stuck. We are double and triple the unemployment numbers. We have to start with giving people information that will guide them out of the economic disparity that they're in. So it's just me doing my small part, traveling around the country giving these free seminars.
The banking industry is big in Charlotte — Bank of America CEO Ken Lewis just announced he's retiring — and all of the uncertainty with the financial sector has people here especially worried. Is there something you think the public should be doing?
The people on Wall Street got their money and are celebrating while the rest of us are still catching hell. That money has still not trickled down to the weak working class. The question is: when are everyday people going to feel a recovery? So I was opposed to how it went down in the first place, but that's water under the bridge at this point. Now is the time we have to demand a couple of things. Demand more regulation. I hope that one of the lessons we've learned in this whole mess is that deregulation doesn't work. The problem is that President Obama has some of the same people around him, advising him — Larry Summers, Tim Geithner, Robert Rubin — the same people who were part of this deregulation that got us into this mess are now back in charge. I hope they've learned their lesson that deregulation causes people to run amuck. They gave them too much deregulation and nobody was watching our money. I just saw Michael Moore's new movie about capitalism and he tells the story quite well. Nobody was watching our money. As a public, we need to insist from our legislative leaders that they do their job to regulate the money, our money, that they've now given away.
You seem very passionate about these issues.
The older I get, the more sickening this gets for me to look at. And it's that sickness in my stomach that keeps me on the road talking about these issues. I hate seeing us get played. I hate seeing us get used. I hate seeing us getting kicked to the curb and taken advantage of. That's what has happened to black people — and to Americans period. And some of us have to wise up and say, "You know what, I'm going to do better by myself. If they don't ever come and help me or do right by me, I'm going to manage my stuff and make better decisions."
For more information on Smiley's event, visit www.nationwide.com/tavistickets.
Written by Jarvis Holliday. Photo courtesy: The Smiley Group, Inc./Kevin Foley